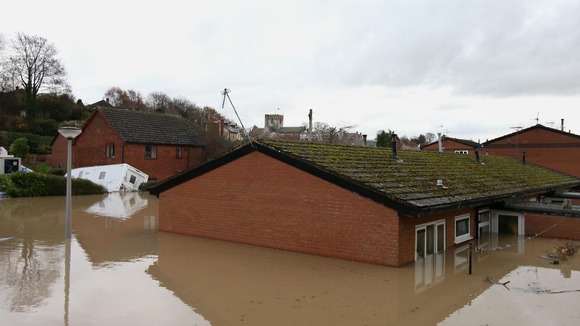 A 91-year-old woman was found dead in her flood-hit North Wales home after torrential rain caused widespread devastation across the country.
The woman, who was named locally as Margaret Hughes, had lived in St Asaph for four decades.
The tiny Welsh city was the latest area to be devastated by the floods - with rescue teams hauling residents from their water-ravaged properties.
Hundreds of people were urged to flee their homes after the River Elwy reached record levels and burst through flood defences.
Around 500 people living in one of Britain's smallest cities - with a population of 3,400 - were encouraged to move in with friends or family until the risk subsided.
ITV News correspondent Martin Geissler reports:
The Environment Agency warned of a continued risk of flooding, despite a drop in rainfall, and released 172 flood warnings this evening.
David Cameron visited homes in flood-ravaged Buckfastleigh, Devon, and said he wanted to get flood insurance "sorted" for those affected.
Up to 200,000 high risk properties could be priced out of affordable cover when a deal struck in 2000 between the then Labour government and insurers ends next summer.
The Prime Minister added that the victims of the flooding had "behaved incredibly bravely".
It is obviously very traumatic when communities are hit by flooding like this but what I found are people are incredibly steadfast and have behaved incredibly bravely at handling the flood and now we need to help them with the recovery.

We have to make sure their insurance pays out, make sure the Environment Agency puts in place good flood defences, make sure there are better warning schemes. There are always lessons to learn and I wanted to come here and hear it for myself.
Mother-of-two Helen Ross, 37, who works at a local school in St Asaph, said the water level in the small city reached more than a foot above her floorboards, causing extensive damage to her living and dining rooms and kitchen.
I have lived here nine years and I never seen the river cause flooding like this.

My husband phoned me at 7am to say parts of the city were being evacuated. I looked out of the window and there was water over the road and then, within an hour, it was in the house.

We've lost everything downstairs. It's heartbreaking.
North Wales Police said the body of Ms Hughes was found at noon today as they carried out house-to-house checks.
Three other people have died since the latest bout of wet weather struck.
Health Advice:
Flooding can cause a series of health problems including, falling into fast-flowing water and the stress of having to clean-up a home damaged by water. If either of these have happened to you or if you have any other health concerns, click below for advice: