Tributes paid to 'active and independent' flood victim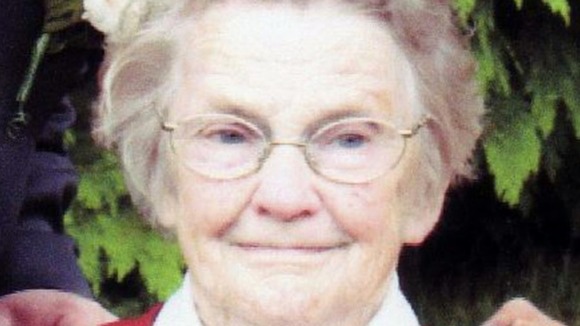 The family of a woman who died in her flooded home have paid tribute to an "active and independent" 91-year-old who was "full of life".
Margaret Hughes was found yesterday in St Asaph, North Wales, after torrential rain caused widespread flooding in the small city.
The elderly woman's daughter, four grandsons and granddaughter paid tribute to her in a statement.
Despite her frailty and age she was still very active and loved nothing more than entertaining her grandchildren and great grandchildren with cups of tea and mince pies with which she would overwhelm them particularly at Christmas.
– family statement

They added that Mrs Hughes, who was set to turn 92 tomorrow, was "independent and strong willed, with a real sense of humour and fun".

Downpours across the UK have caused widespread devastation but with the rain making way for drier weather, the huge clean-up operation can begin.

ITV News correspondent Rupert Evelyn reports:

Forecasters predicted clearer weather for the UK but temperatures are expected to fall below freezing in many areas tonight.

The Environment Agency (EA) warned some rivers could still rise and 126 flood warnings were still in place across England and Wales.
Large rivers such as the Thames, Trent and Severn are still rising or remain at very high levels, and teams from the Environment Agency continue to work around the clock to shore up defences, monitor river levels and clear blockages from watercourses.

People who live along these rivers should keep up to date with the latest situation from the Environment Agency website, and sign up to free flood warnings."
– Environment Agency statement

In Whitby, North Yorkshire, a row of cottages overlooking the historic harbour are set to be demolished after a landslide left them in danger of collapse.
Torrential rain led to the gardens sliding down the slope below them and they are now 30ft lower than the 150-year-old terrace.
One resident, Jude Knight, told ITV Calendar News: "I'm just devastated, I've lost everything."
ITV News correspondent Debi Edward reports:
Prime Minister David Cameron paid tribute to the emergency services and "good neighbours" who have helped fight the flooding.
At Prime Minister's Questions, he also praised the official organisations and members of affected communities who had done "extraordinary things" to help.
The whole House will wish to join me in expressing our sympathies to the victims of the appalling flooding that we have seen across our country in recent days and also in giving support and praise to our emergency services, to the police, fire and ambulance service and to the Environment Agency, local councils, voluntary bodies and good neighbours who have all done extraordinary things to help those in distress.
– David Cameron

EA figures showed that since Wednesday 1,600 properties had been flooded, while flood defences had protected more than 54,000 homes.