Chinese farmer attempts test flight in homemade plane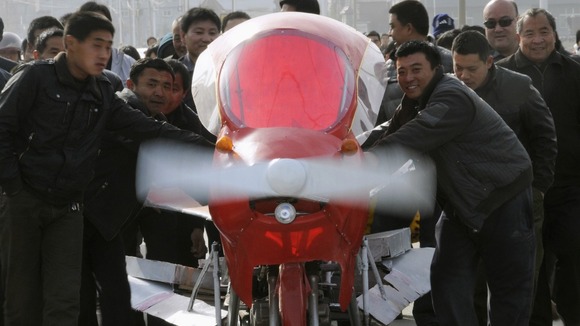 A Chinese plane enthusiast has attempted his maiden flight in a plane he built out of a motorcycle, scrap wood and pieces of plastic.
Zhang Xuelin, a farmer in Shandong province, spent almost a year building the aircraft which is the approximate length of a Mini Cooper and the weight of a small motorcycle.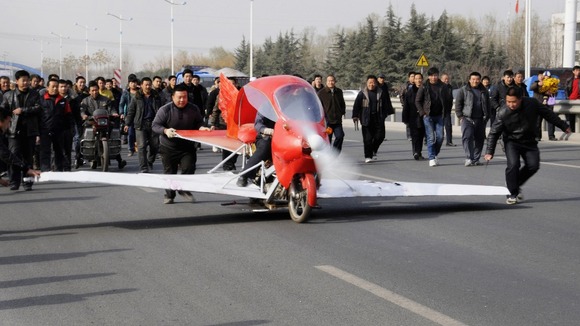 Zhang didn't manage to get off the ground on this attempt, but insists his dream of flying is as strong as ever. "It's my dream, better than playing cards," he said.
He started his project at the beginning of the year but has been studying different types of aircraft since dropping out of school at the age of 12.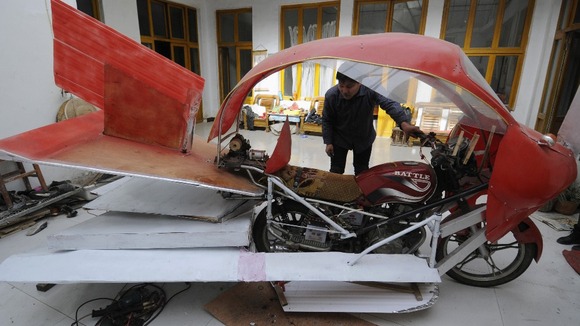 China has a strong tradition of amateur aviation. In December 2008, a 34-year-old shoemaker from Hunan province managed to fly his homemade aircraft after spending six years building it.
Another farmer-turned-aviator in Hubei province was less lucky when his flying machine crashed three seconds after take-off in May 2009.
Emerging from the wreck with badly-scratched legs, pilot Shu Mansheng declared ecstatically: "How could I forget to adjust the throttle in the air? And the tail is way too big, which made the plane impossible to balance and made the nose go down. But I will fix it next time."