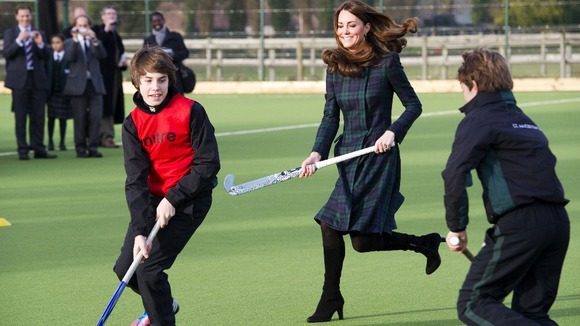 The Duchess of Cambridge revealed today she wanted to be a teacher as she showed off her hockey skills during a visit to her old prep school.
Kate confessed she enjoyed her time at the St Andrew's School in Pangbourne, Berkshire so much that she told her mother she wanted to return as a teacher.
ITV News' correspondent Martha Fairlie reports:
She said she and her sister Pippa kept guinea pigs at the private school, which she attended from 1986 until 1995. One was named Pip after her sibling while the other took her own apparent nickname 'Squeak'.
Later she showed off her hockey skills when she joined a group of year eight 12-year-olds for a training session.
Dressed in an Alexander McQueen frockcoat and three-inch high calf length boots, she darted around the field after the ball.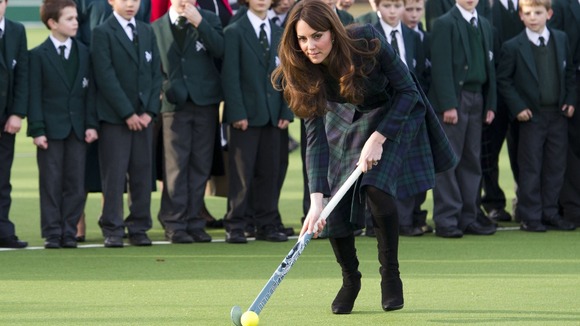 In a short speech on the school's new Astro Turf sports field, she said:
It is such a treat to be back here at St Andrew's. I absolutely loved my time here.

Sport has been a huge part of my life, and I feel incredibly grateful for the opportunities I had to get outside and play in such wonderful open spaces - though sadly there was nothing quite as glamorous as this in my time.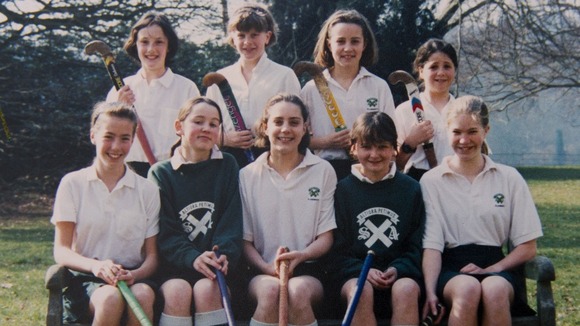 Kate captained the school hockey side and was leading goal scorer in 1995.
She still holds the senior girls' high jump record of 1.50 metres and the 4x100m record she set with three other girls has yet to be beaten.
The school released three sports team photos featuring Kate with the school's hockey, tennis and rounders players.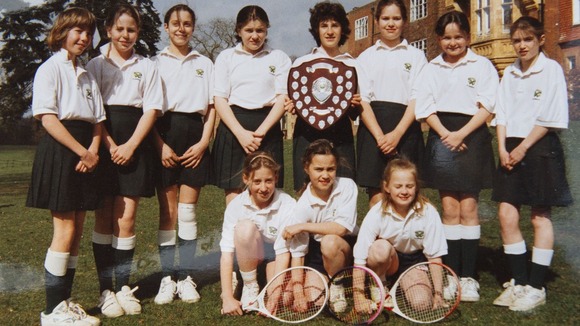 There were a few starstruck faces when she walked past around 80 children were sitting cross-legged on the floor. A few of them, prompted by a teacher, said: "Good afternoon your royal highness."
Paul Outram, deputy head pastoral, was at the school when Kate was a pupil. He said: "She was charming and co-operative, amenable and hard working.
"Everything you want in a girl pupil. She was cheerful, affable and enjoyed games very much."