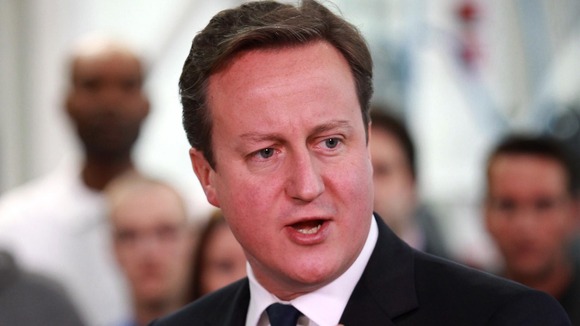 David Cameron is facing a backlash from Tory MPs and religious groups over allowing gay weddings in churches.
The Prime Minister signalled government plans on same-sex marriage to be published next week would go further than expected.
But he stressed that no religious organisation would be forced to hold such ceremonies - and promised a free vote in the Commons.
"I'm a massive supporter of marriage and I don't want gay people to be excluded. But no institution will be forced to conduct such ceremonies," Cameron said.
Deputy Political Editor Chris Ship reports:
The Church of England stressed its opposition to the plans, saying:
Our concern is for the way the meaning of marriage will change for everyone, gay or straight, if the proposals are enacted.

The uniqueness of marriage is that it embodies the underlying, objective, distinctiveness of men and women.

To change the nature of marriage for everyone will be divisive and deliver no obvious legal gains given the rights already conferred by civil partnerships.
– Church of England statement

Several of Cameron's fellow Conservatives also criticised the move:

Same-sex marriage Bill will undo much of the good outreach work the Party has done with Muslim, Sikh, and Hindu communities

Gay marriage bill will be massacred in the Lords and govt can't use Parliament Act as it wasn't in manifesto. Arrogant Cameron knows best

But the Prime Minister's announcement received plenty of support, including from the Liberal Democrat leader Nick Clegg:

Labour's Yvette Cooper also welcomed the move, but she urged Cameron to ensure an early debate on the issue in Parliament:
David Cameron has listened, that is very welcome, but it is important too that Parliament gets on with it now.

I hope David Cameron will not be deterred by opposition within his own party and beyond. We need the Government to move forward with an early debate in Parliament so the issue doesn't stall.
– Yvette Cooper, Shadow Women and Equalities Minister

Under the new Government proposals, due to be launched next week by Equalities Minister Maria Miller, religious organisations which do not want to host same-sex weddings will be given an absolute guarantee they will not be forced to do so.

The original measures put forward in March envisaged no change to the rules for religious marriages, suggesting that same-sex marriage would be permitted only in approved premises like register offices and hotels.

But Whitehall sources said the best way to guarantee "water-tight" protection for opponents was to allow religions to opt in to hosting same-sex ceremonies if they want to.