The family of Jacintha Saldanha have thanked the public for their support after the death of, 'a loving mother and a loving wife.'
In a meeting with Labour MP Keith Vaz, Benedict Barboza and his two teenage children, spoke about their devastation after her apparent suicide.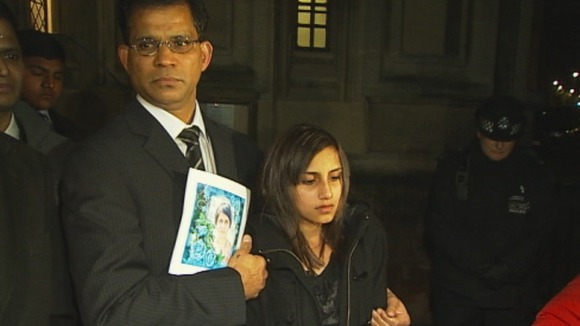 Speaking on behalf of the family Mr Vaz said:
They are extremely grateful to the public here in the United Kingdom and throughout the world who have sent them messages of condolences and support following the death of Jacintha, a loving mother and a loving wife.

This is a close family, they are devastated by what has happened, they miss her every moment of every day.
The hospital where Jacintha Saldanha worked has started a memorial fund, with money raised going to her family.
Details on how to donate to the Jacintha Saldanha Memorial Fund can be found here.
ITV News International Correspondent John Irvine is in Sydney:
The Australian DJs who made a hoax phone call to the Duchess of Cambridge's hospital, have said it was a joke they had assumed would fail. In their first interview since the death of Jacintha Saldanha, they claimed no-one could have predicted the catastrophic consequences.
DJs Mel Greig and Michael Christian expressed their deep regret over the apparent suicide of the nurse who took their call at the King Edward VII Hospital.
After two interviews with Australian television networks Mel Grieg was said to be 'too fragile' to continue and all further interviews were cancelled.
Bosses at the radio station claimed that they had attempted to contact the King Edward VII Hospital five times to discuss their recorded prank call before putting it out on air.
However the hospital denied that any attempt to contact their management or the company responsible for handling their media inquiries had been made.