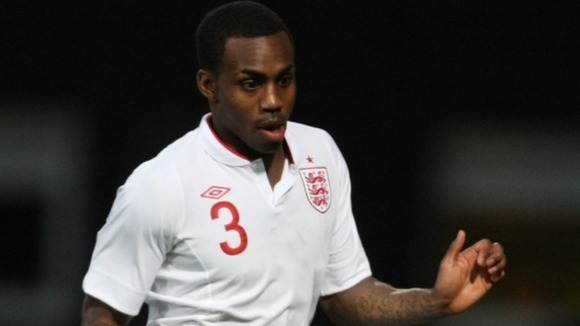 The Football Association and the Ferdinand brothers led a wave of angry reaction tonight to UEFA's announcement of Serbia being fined 80,000 euros (£65,000) and ordered to play a match behind closed doors following racist chanting and violence towards England's under-21 players.
FA general secretary Alex Horne said the sanctions did not send a "strong enough message" about racism, and that the governing body will appeal against two-match and one-match bans for Steven Caulker and Tom Ince respectively.
Rio and Anton Ferdinand also criticised the sanctions on Twitter contrasting it with a 100,000 euro and one-match ban handed to former Arsenal striker Nicklas Bendtner for displaying a betting firm's logo on his underpants during Euro 2012.
UEFA's control and disciplinary body also banned four Serbian players and two coaches for varying terms after ugly scenes marred the end of the European Championship play-off in Krusevac in October.
We are disappointed with the sanctions levied by UEFA with regards to the racist behaviour displayed towards England's players.

Let's be clear, racism is unacceptable in any form, and should play no part in football. The scenes were deplorable and we do not believe the sanction sends a strong enough message.
The Ferdinand brothers reacted to the news on Twitter:
Wow UEFA ain't serious with there punishment... So showin a sponsor is worst than racism and fighting!
Uefa are not serious at all on racism. Fines do not work at all. They have zero impact on federations/clubs/fans/players. #fact
Uefa need to talk to this generation.....they don't seem to be up to date on this issue?? Harsh punishments needed as a deterrent #simple
Sports minister Hugh Robertson, who had written to UEFA president Michel Platini demanding tough action for the racist abuse, also expressed his disappointment.
I am disappointed in the punishment that has been handed to the Serbian FA given the widespread racist abuse that England's Under-21 team suffered that night. Racism is completely unacceptable and we need tough sanctions to help combat it.
The FA had reported the racist abuse to UEFA plus a number of other incidents.
Full-back Danny Rose, who was dismissed after the final whistle for kicking the ball away in anger, complained he had been subjected to monkey chants throughout the match and as he left the pitch.
Serbian FA secretary general Zoran Lakovic appeared to suggest that the UEFA official prosecuting the charges had also demanded tougher action.
Lakovic said in a statement: "If we take into account what the drastic proposed penalty by the disciplinary inspector Jean-Samuel Leube we have not been hit so hard.
"I believe that this is a final warning to all of us who work in Serbian football, including coaches and players and fans, because for even the smallest mistake UEFA can now impose the most rigorous punishment."
Lord Herman Ouseley, chairman of Kick It Out, condemned UEFA's sanctions.
Former Arsenal footballer and PFA Coach Educator Paul Davis told ITV News that "for far too long we've had a lot of talking (about tackling racism) but not a great deal of action."