US President Barack Obama said the United States was failing to keep its children safe, with the country facing no other choice but to change.
Speaking during a vigil for the victims of the school shooting in Newtown in Connecticut Mr Obama said there had to be an end to such tragedies, as he pledged to take action.
The massacre of 26 children and adults at Sandy Hook Elementary on Friday provoked horror around the world, soul-searching in the United States and fresh political debate about gun control.
We gather here in memory of 20 beautiful children and six remarkable adults. They lost their lives in a school - that could have been any school - in quiet town full of good and decent people. That could be any town in America. Here in Newtown I come to offer the love and prayers of a nation.

I am mindful there mere words cannot match the depth of your sorrow. Nor can they heal your wounded hearts. I can only hope it helps for you to know that you're not alone in your grief - but our world too has been torn apart. All across this land of ours, we have wept with you.
– US President Barack Obama

Members of the audience wept when the president read out the names of the children whio were shot.

The president first met privately with families of the victims and with the emergency services who responded to the shootings.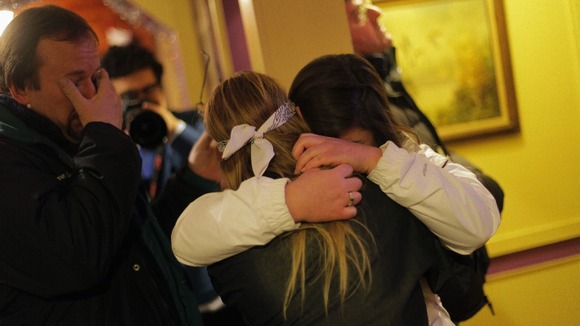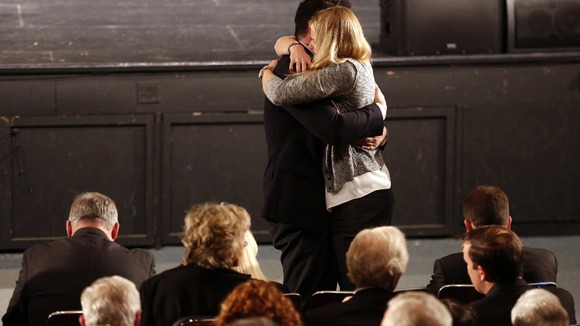 A more detailed picture of gunman Adam Lanza's attack has emerged:
Lanza was carrying an arsenal of hundreds of rounds of ammunition
If given enough time it was enough to kill just about every student in the school
He used used a Bushmaster AR-15 type weapon
The weapon is highly modular, meaning a user can change the barrel, the stock and other features, easily changing a weapon's characteristics such as weight, capacity, range and accuracy
He also had two handguns which he carried into the school, and had a fourth weapon, a shotgun, in his car outside