Injured soldier completes epic UK walking challenge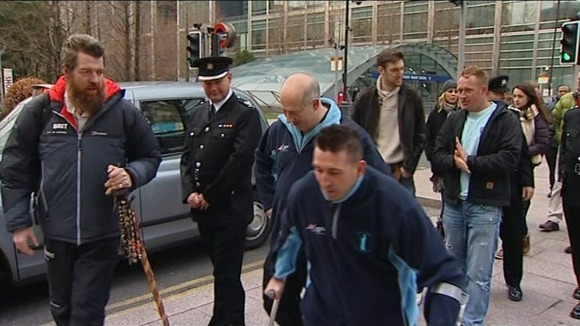 A British soldier who was told he would never walk again after being injured in Iraq has taken the final steps across the finishing line of his latest epic challenge.
Major Phil Packer and his team of walkers today completed a 2012-mile journey around Britain to raise money to help youngsters facing adversity.
The feat amounted to walking 310 marathons over more than 300 days.
Richard Pallot walked with the major on the last day of the challenge as he headed for London's Canary Wharf with a clear demand for businesses to help him raise more money:
The former military policeman from West Sussex began his journey in Portsmouth in January, the latest - and longest - in an already lengthy line of epic challenges.
Despite suffering spinal injuries in a rocket attack four years ago, Major Packer has gone on to climb mountains and parachute with the Red Devils.
He has also rowed the English Channel and walked the London Marathon, raising more than a million pounds for good causes along the way.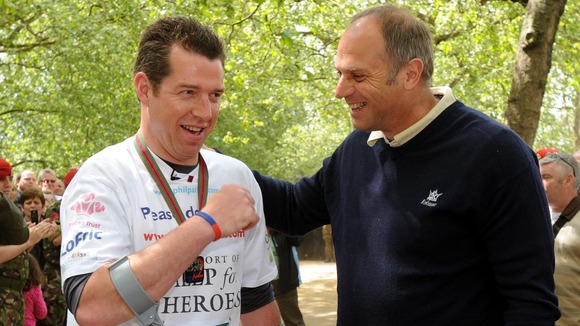 After years of public donations, he told ITV News he wanted top firms to do more to help young people facing physical and mental hardship.
Sixteen to 25 is the age group that I want to support and it's about mental trauma post injury (or) disability when you are really struggling in life and you need that support, that self belief and self confidence.

In 2011, I partnered with 55 charities who want me to build the Centre of Inspiration and now, (on) the last day here, is me saying - and I've never said this before - that I'm not asking for the public's support. I want them to support their charities. I want businesses to join me and build a legacy.
– Major Phil Packer