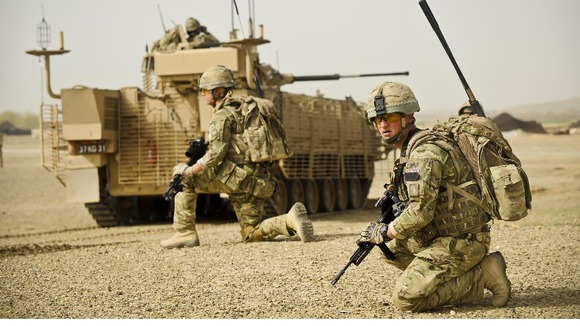 Prime Minister David Cameron outlined the Government's plans to withdraw troops from Afghanistan after 2014, but the plans to scale down troop numbers, and make those plans public, have been criticised.
Around 3,800 British troops will be withdrawn from Afghanistan during 2013, the Prime Minister announced today.
Former Army Officer and Conservative MP Patrick Mercer responded to the move:
One thing you don't do, is announce for political reasons, what you are up to militarily, that is dangerous.
The British military deployment will be reduced from 9,000 to 5,200 by the end of 2013, David Cameron told the House of Commons.
The Prime Minister said there should be two "fairly even withdrawal steps" of troops from Afghanistan between now and the end of 2014.
Post 2014, the Mr Cameron said "we have not made any exact decisions yet" but said his focus was on ensuring a stable future for the country.
Deputy Political Editor Chris Ship reports:
Earlier today Mr Cameron spoke to Afghan President Karzai on the phone. He told MPs in the House of Commons:
After December 2014, we will not be leaving Afghanistan, we have pledged to help the people of Afghanistan. The thing we are most focused on is bringing Pakistan and Agfhanistan together to discuss their future, and I spoke to President Karzai earlier today.
Defence Secretary Philip Hammond told the Commons that the phased process of transition from ISAF troops to the Afghan army was making real progress, and he expected the army to assume full responsibly for the country by 2013:
The real progress being made on the ground in Helmand Province will allow us, on current planning, to reduce British troops to around 5,200 by the end of 2013.

This is a direct result of the success of the Afghan national security forces in assuming a lead role in delivering security for the Afghan people. The phased process of transition of security responsibility agreed at the Lisbon Summit is well advanced and on track.

This gradual drawdown is firmly in line with the planning of our ISAF partners and the advice of military commanders. UK forces will continue to operate alongside their Afghan counterparts, albeit in lower numbers, until our combat operations cease at the end of 2014.
Mr Hammond said he hoped the Taliban would recognise that co-operating with the political process was not the same as surrendering.