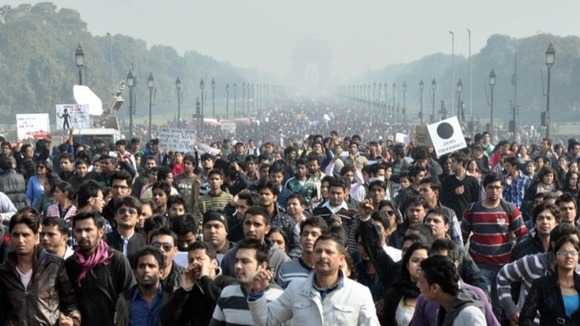 Thousands of protesters continued to storm the Indian capital of New Delhi today to demand justice and better policing after the brutal sexual assault of a young physiotherapist last week.
The protests are ongoing despite the Government banning 'rape protests' after yesterday's violence.
Areas close to the presidential palace and government office have been declared off-limits to demonstrators following a sixth day of action on Saturday.
Clashes between the protesters and riot police erupted when a group tried to break through barricades and began to throw stones.
Police responded with tear-gas and water cannons, and used batons to try to control the masses who had marched towards the president's residence and the Prime Minister's office.
Delhi Police have today cordoned off all routes leading to British built The Seat of Power, closed metro subway stations and detained a group of protesters.
However, demonstrations are continuing with cries of "be ashamed" from protesters.
Official data reveals that rape cases in India have increased by over 875% during the past 40 years.
Indian media reported the protests are similar to recent demonstrations in Tahrir Square, Egypt.