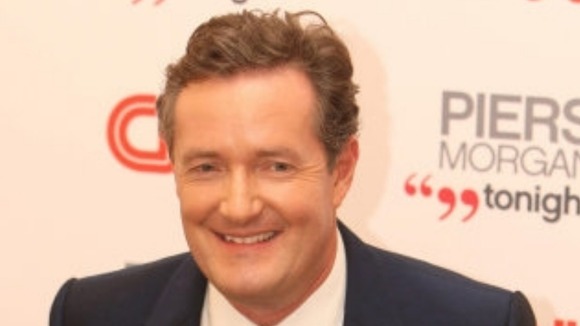 Over 30,000 Americans have signed a petition calling for the British CNN talkshow host Piers Morgan to be deported after his criticism of the country's gun control laws - passing the 25,000 threshold which requires the White House to respond to it.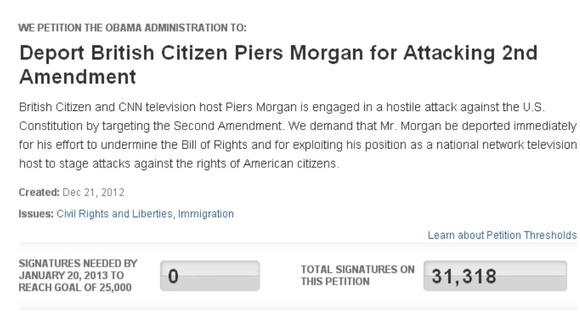 The petition, created on the White House e-petition website three days ago by a man from Austin in Texas, condemned the former Daily Mirror editor after he called for tighter gun laws in wake of the Connecticut school shooting:
British citizen and CNN television host Piers Morgan is engaged in a hostile attack against the U.S. constitution by targeting the Second Amendment.

We demand that Mr. Morgan be deported immediately for his effort to undermine the Bill of Rights and for exploiting his position as a national network television host to stage attacks against the rights of American citizens.
– Petition

On Tuesday, Mr Morgan chaired a debate on gun laws on his CNN show.

He called the Gun Owners of America executive director "an unbelievably stupid man" who did not "actually give a damn about the gun murder rate in America."

Mr Morgan responded to his critics on Twitter:

Just 4821 signatures needed to take my deportation petition to the point Obama has to respond. I urge you to sign: https://t.co/l2UJKBwd

Ironic U.S. gun rights campaign to deport me for 'attacking 2nd Amendment rights' - is my opinion not protected under 1st Amendment rights?

6,600 Americans have currently signed the petition to deport me - meaning 311,993,400 clearly want me to stay. Thank you.

It is not known when the Obama administration is expected to respond.

Mr Morgan attended one of the president's Christmas parties at the White House a couple of weeks ago, which he wrote about in his Mail on Sunday column.