Millions of shoppers swamped Boxing Day sales across the UK as festive retail records looked set to tumble.
Many bargain hunters queued overnight to pick up the best deals on a day where shoppers were expected to spend almost £3 billion.
The UK average footfall was up by 21.6% on Boxing Day last year, the retailers' body said.
Manchester's Trafford Centre enjoyed what is thought to be the biggest Boxing Day sale in its history with police drafted in to help manage the crowds.
Meanwhile, several hundred thousand customers passed through London's retail mecca of Oxford Street, with shoppers from across the country joined by thousands of tourists, many from China.
ITV News' Matthew Taylor reports:
Sue West, Selfridges director of operations, said handbags and menswear were flying off the shelves at their flagship West End store. She said:
Of the people queuing to get inside 60% or 70% were men. It's a great day for men's shopping. It's a tradition and people want to experience it.

Online sales for us have been great but year on year people still want to experience the Boxing Day sales.
Scenes of shopping mayhem in London were replicated across the country.
At Birmingham's Bullring Shopping Centre, thousands were ready and waiting from 12:20am for the off. Some 350,000 passed through after doors opened.
Popular picks included the Next Boxing Day Sale, which started at 6:00am in many stores across the country.
As crowds swarmed the centre, Tim Walley, Bullring general manager, said:
Today we expect over 200,000 customers to flock to Bullring all eager to pick up some bargains. Three of the centre's biggest retailers, Selfridges, Debenhams and Next have all launched their iconic sales today.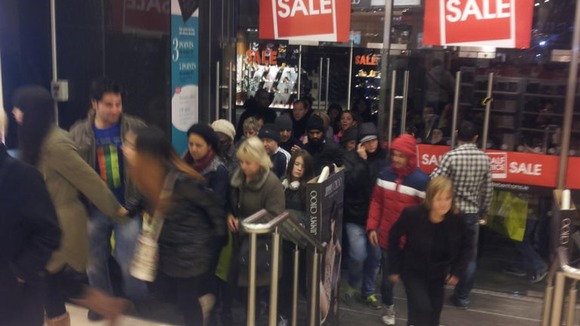 In Bristol, hundreds of people queued from the early hours of this morning to be among the first through the doors of Cabot Circus' Next store.
Centre director Kevin Duffy said:
.
There were a couple of hundred people waiting at 6am, and three hours later the queues are still there waiting their turn to get in.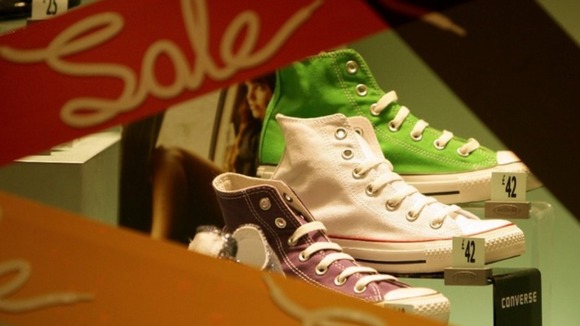 Twenty-thousand shoppers had arrived at Manchester's Trafford Centre by 8am, said Gordon McKinnon, director of operations.
Dramatic price cuts across a range of sectors have proven very attractive to our customers, huge reductions have been reported in electrical goods, men's and ladies' fashions, toys and footwear.
At Kent's Bluewater shopping centre, queues began to form at 1am with more than 3,000 waiting at 7am.
Robert Goodman, Bluewater's general manager, said: "This is certainly one of the busiest starts ever at Bluewater for the Boxing Day sales."
Chinese shoppers have proven to be the top spenders as footfall rose 31.3% from last year in London's West End, with Middle Eastern and Nigerian shoppers also understood to be among the strongest growth nationalities at the tills.
The international shoppers were being greeted by a retail staff who spoke more than 22 languages combined, including Mandarin.