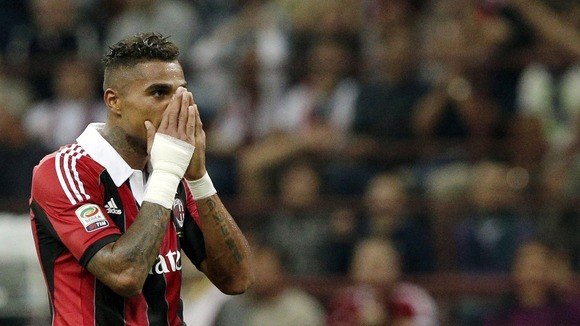 AC Milan's Kevin-Prince Boateng walked-off the pitch in protest after being subjected to racist chants during a friendly match against fourth-tier side Pro Patria.
The match was abandoned when the midfielder, who was in possession, picked up the ball in the 26th minute and kicked it towards the stand behind him.
The former Tottenham and Portsmouth player then stormed off the pitch.
A player from Pro Patria attempted to talk to the Ghanaian as he departed but Boateng left the field and was quickly followed by his teammates and officials.
The midfielder applauded other sections of the crowd, who then appeared to angrily react towards the section where the chants had come from.
Boateng later tweeted:
AC Milan's official website was running a text commentary of the game and posted the following message on the 26th minute:
AC Milan leaves the pitch after racist abuse by a minority of Pro Patria fans at Boateng, (Mbaye) Niang, (Urby) Emanuelson and (Sulley) Muntari. The rest of the fans in the stands disassociated themselves from such racist events.
AC Milan's Urby Emanuelson tweeted:
That still this kind of things can happen anno 2013.. What a shame!!!!! #StopRacism
Milan coach Massimiliano Allegri said he was "saddened" by the events.
We are disappointed and saddened by what has happened.

Milan play for the right to respect all players. We need to stop these uncivilised gestures.

We are sorry for all the other fans who came here for a beautiful day of sport. We promise to return, and we are sorry for the club and players of Pro Patria, but we could not make any other decision.

I hope it can be an important signal.
– Massimiliano Allegri

Manchester City captain Vincent Kompany, Manchester United's Rio Ferdinand and Stoke City's Michael Owen all tweeted in support of Boateng.

Act of racism against Boateng during Milan's friendly. How about becoming extremely intolerant towards racist idiots? They need to be told.

I can only salute Milan's decision to leave the pitch. Also noted that the majority of the fans were completely supportive of the players.

If the stories about KPB walking off the pitch with teammate's after being racially abused are true,fair play to him..well done #UefaStandUp

That Prince Boatang footage from the Milan game is shocking. Shame it takes a player to do that instead of the authorities being proactive.

The match was goalless at the time, with Muntari having had a goal disallowed for offside.