McFly star's emotional wedding song goes viral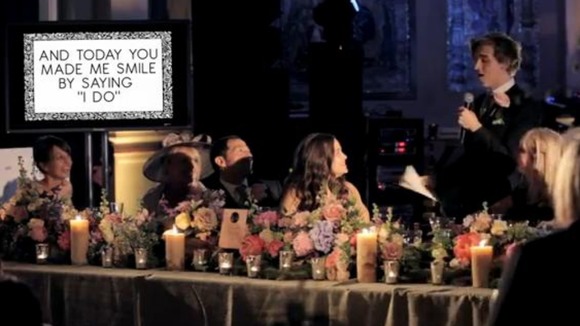 McFly star Tom Fletcher opted to sing his wedding speech to his bride and guests after admitting he "absolutely hates public speaking" and now the video has gone viral.
The popstar posted the video on YouTube just "to share it with family" but it has now been watched more than two million times, stunning the singer.
Using the melodies from McFly hits, including Obviously, Fletcher thanked his guests and paid tribute to the wedding party, band mates and bride.
Before he began singing the star said:
Giovanna can tell you that the only nerves and anxiety that I have had about the wedding have been about giving this speech.

I absolutely hate public speaking. Me and public speaking we're just not compatible, we don't go together very well at all.

I think mainly because I don't have any idea how to write a good speech but I do know how to write a song.
Fletcher, who married in May 2012, came under fire for posting the video online just days before pictures of his bandmate's wedding pictures were unveiled in Hello.
But he said he had "no idea the wedding article was coming out" as Harry Judd married before Christmas.
Oh & I read that article about me posting it to try and "steal Harry's thunder". I had no idea his wedding article was coming out this week!
If I'd have known I would definitely not have put it up. I only got our weddig video the week before Harry's wedding so I couldn't post it..
..before. The Judd's wedding was before Christmas so thought it was safe to do it now. Ooops! Sorry. No harm intended!