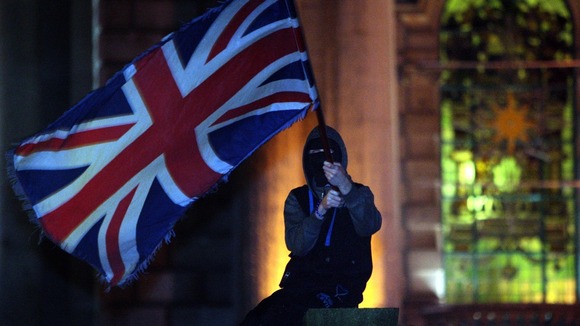 The union flag will be raised at dawn over Belfast City Hall for the first time since the dispute began last month.
The flying of the flag is to mark the Duchess of Cambridge's birthday, who turns 31 today.
Unrest has continued intermittently since Belfast City Council's decision in December to reduce the number of days the flag flies.
Designated days for the flying of the union flag
9 January: Birthday of The Duchess of Cambridge
20 January: Birthday of The Countess of Wessex
6 February: Her Majesty's Accession
19 February: Birthday of The Duke of York
10 March: Birthday of The Earl of Wessex
11 March: Commonwealth Day (second Monday in March)
17 March: St Patrick's Day (in Northern Ireland only)
21 April: Birthday of Her Majesty The Queen
9 May: Europe Day
2 June: Coronation Day
10 June: Birthday of The Duke of Edinburgh
15 June: Official Celebration of Her Majesty's Birthday
21 June: Birthday of The Duke of Cambridge
17 July: Birthday of The Duchess of Cornwall
15 August: Birthday of The Princess Royal
10 November: Remembrance Day (second Sunday)
14 November: Birthday of The Prince of Wales
20 November: Her Majesty's Wedding Day
Opening of Parliament by HM The Queen
Closing of Parliament by HM The Queen