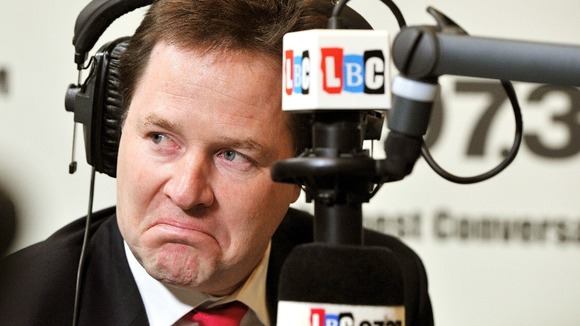 Liberal Democrat leader Nick Clegg was lambasted by a caller during the first of his new weekly radio phone-ins.
John from Woking, a former Lib Dem councillor, told the Deputy Prime Minister he was renouncing his membership because he was "ashamed" of what the party were doing in government.
The clash came as the politician held his first weekly 'Call Clegg' phone-in on London's LBC 97.3 radio.
ITV News' Political Correspondent Romilly Weeks reports:
Mr Clegg has said he is doing the programme, with presenter Nick Ferrari, because he feels politicians do not hear enough from voters directly.
John from Woking was extremely direct, telling Clegg: "I'm a Liberal Democrat who's just torn up his membership card."
He challenged the Deputy PM to explain how he could reconcile the party's principles with "this Government's attacks on the poorest in society".
Mr Clegg repsonded by asking John to give the party credit for measures like raising the income tax threshold and introducing a pupil premium for children from disadvantaged backgrounds.
John from Woking later told ITV News that he would "love to see Clegg resign".
I asked the question about Lib Dem values compared to what we're achieving today, but I didn't really get the chance to rebuff what he said.

I've stood as a councillor and as a candidate. I've been through a lot with the party so to see what Clegg has done to it since 2010 has made me really angry.
– John from Woking

Clegg was grilled by another caller about the Government's spending on foreign aid, and spoke to a woman who was losing her child benefit.

In one call, Lauren in Sheffield quizzed Clegg on tuition fees, saying that a raft of Government policy has left poorer young people feeling that "higher education is not for them".

Speaking about his election pledge to cut tuition fees which he has subsequently had to retract, the Deputy Prime Minister said:
I have apologised as clearly and candidly as I could for that fact that we made a commitment that given that we were unlikely to be in Government on our own.

it is certainly one of the biggest regrets that we made a commitment that we were just not in a position to deliver.
In one of the show's lighter moments, Clegg was asked to illustrate whether he was "a man of the people" by revealing if had ever worn a onesie.
Clegg responded that does own a green onesie - but does not wear it.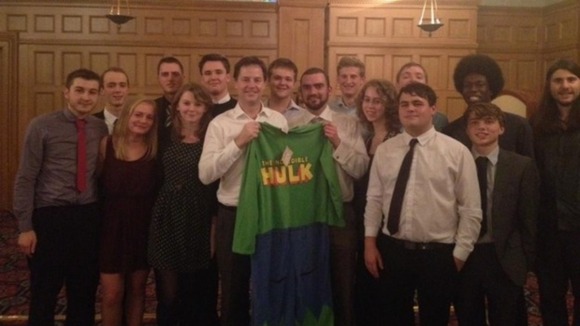 After the show, Clegg tweeted that he 'enjoyed' his roasting by the public on live radio and is looking forward to the next session next week:
If you enjoyed #CallClegg as much as I did, I'll be back on @lbc973 next Thursday at the same time
Not all his political peers were so upbeat, with Labour frontbencher Angela Eagle describing listening to the show as "half an hour of my life I will never get back".
Asked whether David Cameron listened to his deputy on the radio, the Prime Minister's spokesman said: "He was scheduled to be in meetings at that point."