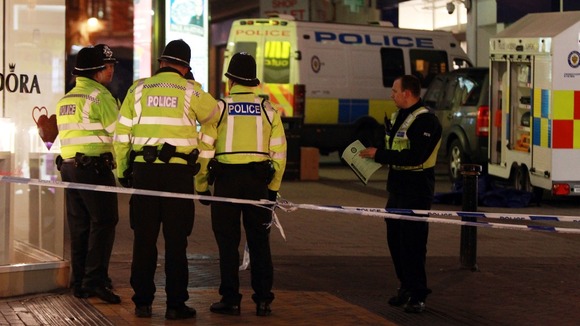 A man has been arrested after two men were stabbed to death in Birmingham city centre last night.
The victims, who are believed to be in their 40s, were stabbed just before 6pm, according to police.
West Midlands Police said one victim is understood to have been stabbed outside a Sainsbury's store in Martineau Place, while the second man was found slumped near Boots in Union Street. Both were pronounced dead at the scene.
A man was arrested in New Street near the Odeon Cinema shortly after the attacks took place.
Superintendent Richard Moore of Birmingham Central Police said it was a "dreadful" and "exceptionally rare" incident:
Both men suffered cardiac arrests despite "advanced life support" given to them by medics. Passers-by also gave the victims "excellent first aid", but with no success.
There are potentially hundreds of witnesses, either people who saw the stabbings or the offender leaving the scene, and I'd urge people to get in touch immediately - they could have vital information.
– Inspector David Keen, West Midlands Police

A police cordon is to remain in place overnight while officers carry out forensic investigations.

Police are urging anyone who witnessed the incident or has any information to call them on the 101 number.