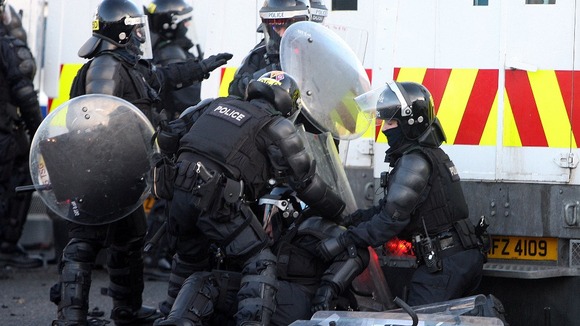 Twenty-nine police officers were injured during fresh violence over Belfast council's decision to restrict the flying of the Union flag at Belfast City Hall.
Water canons and non-lethal baton rounds were deployed by officers as they came under a hail of bricks and fireworks when they separated the opposing factions at an interface flashpoint on the Albertbridge Road near Short Strand.
Trouble erupted as demonstrators were returning from a 1,000-strong protest outside Belfast City Hall.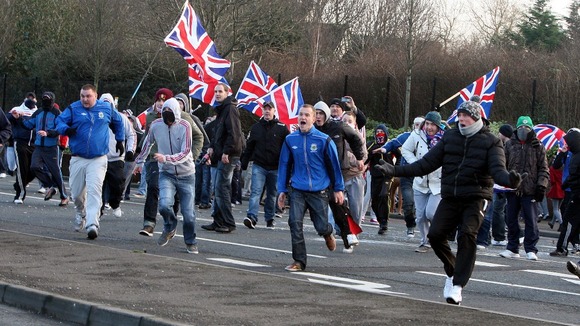 Leaders condemned the violence today, urging restraint. Ireland's Tanaiste (deputy leader) Eamonn Gilmore said that unrest in Belfast over the Union flag has "nothing to do with real issues":
This violence is being orchestrated and those behind it are known criminals, intent on creating chaos.

This has nothing to do with real issues around flags and identity in a shared society, which are the subject of intensive political discussions at present.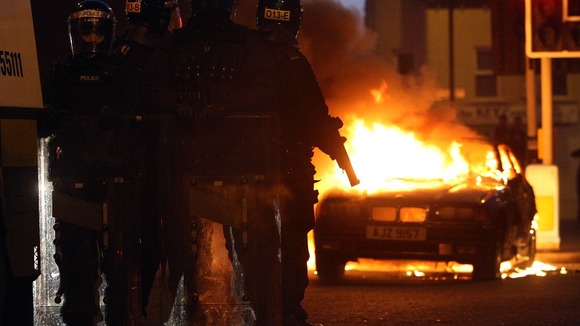 Almost 100 officers have been injured and over 100 arrests made during weeks of sporadic trouble, the Police Service of Northern Ireland (PSNI) said.
Businesses in Belfast 's city centre have struggled to cope, with many reporting lost trade, and the Confederation of British Industry (CBI) warned some investors may think again.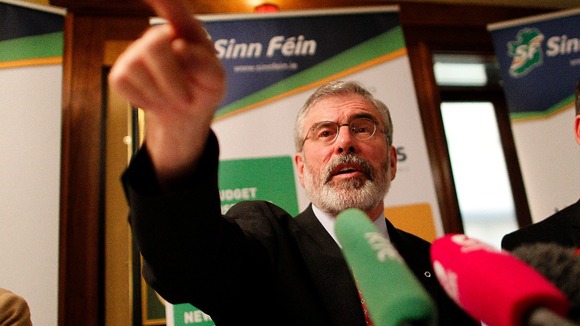 Sinn Fein leader Gerry Adams said there should be a cross-community response. He added:
But there can be no going back. The tiny minorities who want to cling to the past must be rejected. Sectarianism must be tackled and ended.
ITV's Emily Morgan reports:
Chief Constable Matt Baggott said it was a difficult operation dealing with a large number of people determined to cause disorder and violence:
My colleagues brought the situation under control with exceptional courage and professionalism.

I know the vast majority of people will be grateful for their efforts. Police will continue to engage with all those committed to finding a solution to these issues.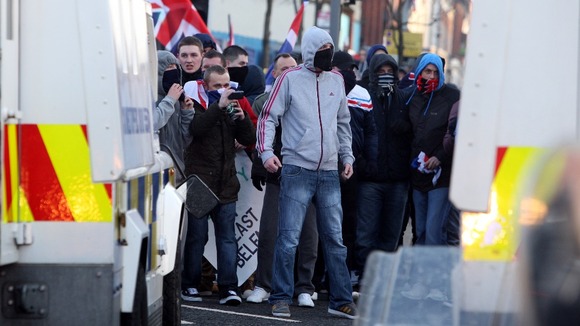 Senior politicians from Belfast, Dublin and London are to meet next week to discuss the protests after more than 40 days of road blocks and sporadic violence by loyalists failed to produce a solution.
Stormont First Minister Peter Robinson and his deputy Martin McGuinness will join Northern Ireland Secretary Theresa Viliers and Mr Gilmore.
A second peace rally is to be held outside Belfast City Hall tomorrow.