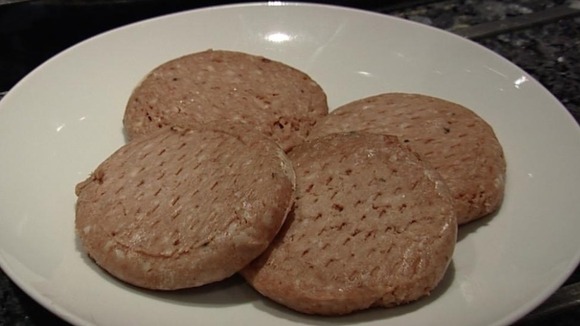 No wonder this has got everyone talking, they are part of the nations staple diet, now burgers are hit by scandal.
The highest level of contamination was found in one Tesco sample: 29% horsemeat.
Officials tonight said there could be separate causes - one for the high Tesco horsemeat reading - another for the trace elements found elsewhere.
New UK test will now be conducted. The phrase "after the horse has bolted" is one I found hard to resist in my scripts.
Tonight Tesco's chief executive has published a detailed blog giving his view on what has gone wrong, and how it will be put right. Philip Clarke said:
As a food retailer, customers must have confidence in the products we offer. Trust is essential. As a customer, you need to know that the food you buy and consume is what it says it is.

Trust is hard won and easily lost. Our customers trust us that, if something goes wrong, Tesco will go above and beyond what is merely necessary to look after customers and will do the right thing, immediately and wholeheartedly
You can read his full blog here.
Tesco still sees trust as fundamental, though it is backed up with audits and unannounced checks on meat suppliers.
Yet the food chain we all depend on has grown long and complex. From the burger on our plates the next link in the food chain is stores:
4 supermarkets with Uk outlets are implicated in this scandal
34 different burger products form Irish republic supplies were identified
Next in the chain come the meat processors, three are suspected:
Dalepak, in North Yorkshire
Liffey Meats, in the Irish Republic
Silvercrest Foods, also in the Irish Republic
Then come international exporters: investigators suspect the ultimate source of the horsemeat could be continental Europe, specifically the Netherlands and Spain
Today food policy expert Prof Tim Lang told me he would be "surprised if cost cutting were not involved" somewhere in that vast chain of supply.
Yet in time of public spending cuts, regulating food supply is a big financial challenge.
The DNA tests conducted by the Irish Republic are costly. This afternoon the UK Food Standards Agency told me such checks have not been its priority, the FSA concentrates its limited resources on testing for substances where there is a health implication.