US college football player in dead girlfriend hoax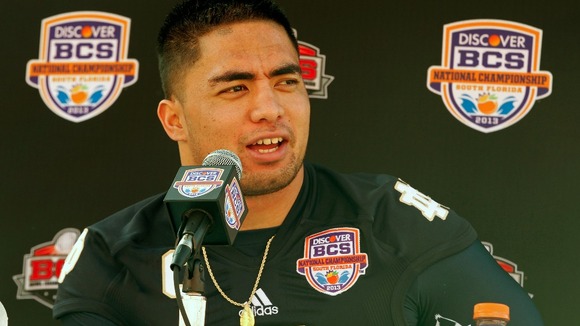 An American football college player appears to have been a victim of a cruel online hoax.
Notre Dame's Manti Te'o made the headlines across the States after he dedicated many of his wins to his girlfriend Lennay Kekua, who he said had died after a short battle with leukaemia - just hours after his beloved grandmother died.
Three days later, Te'o played the game of his life, leading his side to a 20-3 victory over Michigan State.
His emotional heart-wrenching story led him to be on the shortlist for the award for the best player in college football and he was expected to be a top pick in the NFL draft.
However an investigation by sports magazine Deadspin revealed that there was no record of the girl ever existing and implied that the hoax was an attempt by Te'o and friends to raise his profile.
It appeared that his only interaction with the woman he called his girlfriend appears to be via Twitter.
But Notre Dame issued a statement claiming that it was Te'o who was the victim of the hoax.
Notre Dame Athletic Director Jack Swarbrick said the university learned of the hoax from Te'o on Boxing Day:
This was a very elaborate, very sophisticated hoax perpetrated for reasons we can't fully understand but had a certain cruelty at its core, based on the exchanges that we were able to see between some of the people who perpetrated it.
In a statement issued on behalf of the player, Te'o said:
This is incredibly embarrassing to talk about, but over an extended period of time, I developed an emotional relationship with a woman I met online.

I maintained what I thought to be an authentic relationship by communicating frequently online and on the phone.

To realise that I was the victim of what was apparently someone's sick joke and constant lies was, and is, painful and humiliating.
– Manti Te'o

Te'o appears to have deleted most references to Lennay Kekua on his Twitter account with just a few tweets remaining including this one naming Lennay Kekua as one of his family:

The Twitter account which appears to have been run by the hoaxer has retweeted several tweets from Te'o paying tribute to his "girlfriend" back in September and November:

The most recent tweet appears to hint at more information to come:

It isn't fair to drag Reagan and Troy into this.. a lot of truths and myths need to be addressed here, and they will be at noon PST tomorrow