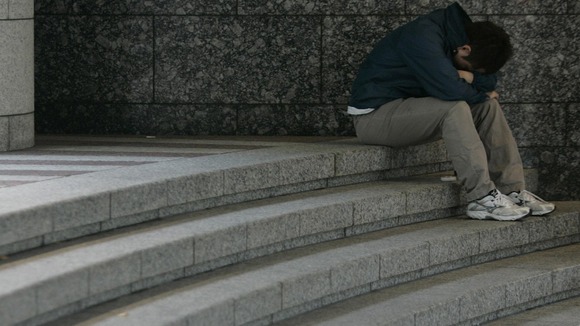 After more than a decade of falling suicide rates in males, these statistics show that the suicide rate amongst men has increased significantly between 2010 and 2011, from 17 to 18.2 deaths per 100,000 population.
In 2011, according to the Office of National Statistics (ONS) men aged between 30 and 44 were the most vulnerable to suicide and this group had the highest rise; about 23 per 100,000 took their own lives.
After making a documentary about male depression for ITV before Christmas last year, called "The trouble with men" I am not surprised, only saddened.
More: UK's male depression 'epidemic'
Then experts warned that the rise in undiagnosed and untreated male depression could lead to a rise in suicides for this vulnerable group.
They also suggested that the crime and drug dependency statistics shrouded the underlying deeper problem of male depression. As Alan White, Professor of Men's Health, explained to me then:
Men tend to push away. They tend to hide away. They tend to self medicate. Turn to drinking, they turn to work…you see this downward spiral of men going into more and more difficult places.
England, Wales and Scotland all have National Suicide Prevention strategies. England launched a new initiative as recently as September. Nevertheless, professional help is often difficult to access and public knowledge of the issue very limited.
Male depression often remains a taboo subject.
But today's figures are alarming and show that the trouble with men is that they often don't know the trouble they are in.