Chilean prisoners rock out to Queen during flash dance
Inmates at a prison in Chile's capital took a break from their daily routine on Wednesday to take part in a flash dance.
Dressed in neon orange, yellow and green t-shirts, they formed rows in the prison courtyard and began to dance in unison to Queen's classic rock anthem "We Will Rock You".
They also danced along to party favourite Los del Rio's "Macarena".
The routine was choreographed by Chilean television personality and dance instructor Julio Zuniga.
The event was part of initiative from Chile's prison service officials to reduce the levels of violence among inmates and incorporate new activities into inmates' lives to improve their self-esteem and motivation.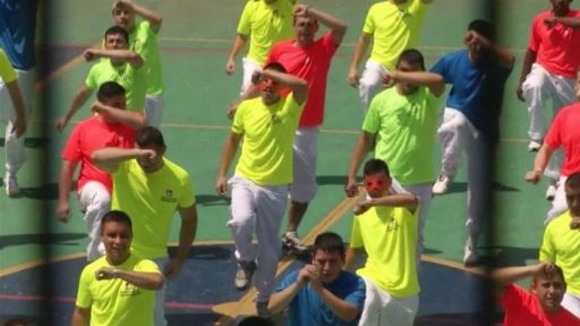 Chile's director of prisons, Luis Masferrer, who watched the performance, said:
Activities like the dancing and music today are fundamental aspects of what we are doing to change" inmates' living conditions and chances for successfully reintegrating into society.
It mirrors a similar dancing initiative at Cebu Provincial Detention and Rehabilitation Centre in the Philippines.
In 2007, its inmates became famous after a video of them performing Michael Jackson's Thriller went viral.
To date, that video has attracted over 52 million views.
Since then, the prison's dance troupe have performed choreographed dance routines to other popular songs such as the Village People's Y.M.C.A, and South Korea rapper Psy's Gangnam Style.
With a little or a lot more practice, maybe the prisoners at the Centre for Preventive Detention of Santiago, could achieve similar success.
See also: