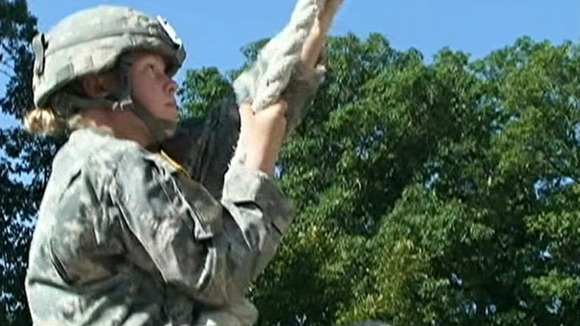 The Pentagon has officially scrapped the military's ban imposed in 1994 on woman serving in front-line combat roles. The outgoing US Defence Secretary Leon Panetta formally announced the change today.
Speaking at a press conference United States Secretary of Defence Leon Panetta said that women are "an integral part of our ability to perform" military mission, he added that, "not everyone can be a combat soldier, but everyone should have the chance."
ITV News Washington Correspondent Robert Moore reports:
There are hopes the move could help women get past the 'brass ceiling' in the US military - which has seen few women rise to the highest ranks without combat experience.
The Department's goal in rescinding the rule is to ensure that the mission is met with the best-qualified and most capable people, regardless of gender.
– Defence Secretary Leon Panetta

The President also lent his support to the change:
Today, by moving to open more military positions - including ground combat units - to women, our armed forces have taken another historic step toward harnessing the talents and skills of all our citizens. This milestone reflects the courageous and patriotic service of women through more than two centuries of American history and the indispensable role of women in today's military. Many have made the ultimate sacrifice, including more than 150 women who have given their lives in Iraq and Afghanistan - patriots whose sacrifices show that valour knows no gender.

Earlier today I called Secretary of Defence Panetta to express my strong support for this decision, which will strengthen our military, enhance our readiness, and be another step toward fulfilling our nation's founding ideals of fairness and equality. I congratulate our military, including the Joint Chiefs of Staff, for the rigour that they have brought to this process. As Commander in Chief, I am absolutely confident that - as with the repeal of 'Don't Ask, Don't Tell' - the professionalism of our armed forces will ensure a smooth transition and keep our military the very best in the world.
– PRESIDENT BARACK OBAMA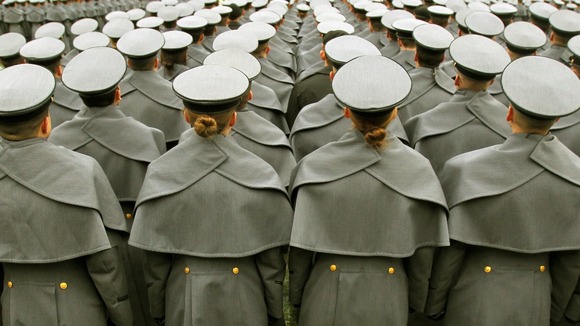 The Ministry of Defence has said that there are no plans to follow the US lead. In the UK, women are currently banned from close-combat roles.
They allowed to undertake posts in areas such as logistics, artillery and engineering, but they cannot join the infantry or serve in small tactical combat arms teams where they are required to be in close contact with and kill the enemy face-to-face.