Armando Iannucci: Three decades of award-winning comedy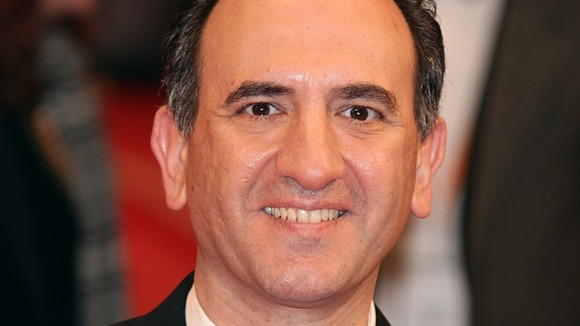 Armando Iannucci, who has helped create a raft of influential comedy programmes and films, will receive an OBE from the Prince of Wales today.
Iannucci is the man behind famously foul-mouthed political sitcom The Thick Of It and also worked on hit shows including The Day Today and I'm Alan Partridge.
His satirical film In The Loop was nominated for an Oscar in 2010.
Here is a series of clips from an award-winning comedy career spanning three decades (some may not be suitable for children):
1994: The Day Today
Producer, writer, actor
1994 - present: Knowing Me Knowing You With Alan Partridge, I'm Alan Partridge, Mid Morning Matters
Writer, producer
Won three British Comedy Awards
Won two BAFTA awards
Nominated for two RTS awards
2006 - 2007: Time Trumpet
Creator, writer
2005 - 2012: The Thick Of It
Creator, writer
Won two BAFTA awards, nominated for three more
Won three British Comedy Awards, nominated for four more
Won two RTS Awards, nominated for two more
Won two Broadcasting Press Guild awards
2009 - 2012: Stewart Lee's Comedy Vehicle
Executive producer
Won one BAFTA award
Won one British Comedy Award
2009: In The Loop
Writer, director
Nominated for one Academy Award
Nominated for one BAFTA Award
Won one BAFTA Scotland Award
Won one British Comedy Award
Won one British Independent Film Award
Won one Empire film award
Won one London Critics Circle Film Award
Won one New York Film Critics Circle Award
2012 - present: Veep
Writer, director, producer
Nominated for one Golden Globe Award
Won one Emmy Award, nominated for one more
Nominated for one Writers Guild of America Award
Iannucci famously had a Twitter spat with former Number 10 communications chief Alastair Campbell about the ethics of accepting establishment awards:
. So @aiannucci OBE joins the Establishment he claims to deride. Malcolm Tucker and I do not approve of honours system
. @campbellclaret It's probably more Establishment to order your army to march into other countries for no reason. Swings and roundabouts.
@aiannucci you see, your wit a bit tired and blunt already. Three little letters can have more impact than you realise. Tut tut