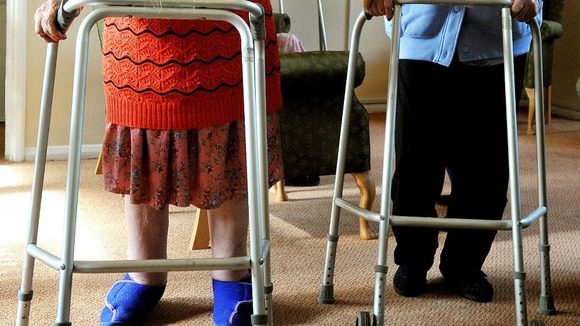 The coalition will announce that elderly care bills are to be capped by the state in a £1 billion move expected to be funded by dragging more people into inheritance tax.
To the disappointment of many campaigners, the cap will be set at £75,000 - more than double the £35,000 recommended by the independent Dilnot Commission.
But thousands more people will be hit with inheritance tax bills because of a three-year extension of the freeze in the £325,000 threshold - £650,000 for couples - at which it kicks in at 40%.
Alongside the cap, Health Secretary Jeremy Hunt is to announce a large rise in the assets threshold beneath which people receive means-tested support meeting care bills. Currently £23,250, that is set to rise to £123,000.
The point of what we are doing is to protect people's inheritance. The worst thing that can happen is at the most vulnerable moment in your life you lose the thing you worked hard for, that you saved for, your own house.

And what we are trying to do is to be one of the first countries in the world which creates a system where people don't have to sell their own house.
– Jeremy Hunt speaking to BBC1's Andrew Marr Show

He added that the current situation was a "scandal" in which 30,000 to 40,000 people a year have to sell their houses to pay for their care costs.

Mr Hunt said it would be a "fully funded solution" and one that would pave the way for insurers to provide a system of cover for elderly care.

The National Pensioners Convention (NPC) described the social care reforms as "about as credible as a Findus Lasagne".
The social care system needs urgent and radical reform, but these proposals simply tinker at the edges.

The current system is dogged by means-testing, a postcode lottery of charges, a rationing of services and poor standards and nothing in the plan looks like it will address any of these concerns.

Setting a lifetime cap on care costs of £75,000 will help just 10% of those needing care, whilst the majority will be left to struggle on with a third rate service.

The Government needs to be much braver and bolder if it is really going to sort out the problems - otherwise in a few years time we'll be back again having another look at the issue.

Using inheritance tax or money saved from the state pension system simply won't raise enough money to bring about the change that's needed.
– NPC general secretary Dot Gibson

Shadow care and older people's minister Liz Kendall said a "bigger and bolder response" was needed.
This would be a small step forward for some people who need residential care in five or more years time.

But it won't be fair for people with modest homes. Andrew Dilnot recommended a cap on care costs of £35,000 and warned that anything above £50,000 won't provide adequate protection for people with low incomes and low wealth.

And these proposals won't do anything for the hundreds of thousands of elderly and disabled people who are facing a desperate daily struggle to get the care and support they need right now.