Sir Elton John encourages 'love' to prevent Aids discrimination on Valentine's Day
Sir Elton John will join forces with his celebrity friends in a fight against Aids this Valentine's Day.
The singer has persuaded his celebrity friends to take part in the campaign, by pricking their finger to draw a spot of blood and then tweet an image of it, accompanied by the words Love Is In My Blood.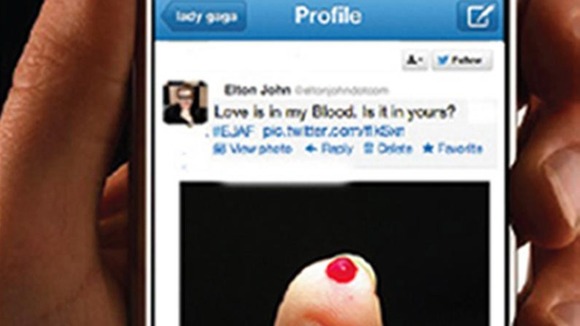 Chinese artist Ai WeiWei has also made a film for the campaign aimed at stamping out prejudice and discrimination against Aids.
When Elton asked me to create something for the foundation, I wanted to contribute by finding an expression that raises awareness for this crisis among as many people as possible.
– Ai WeiWei, artist

Two versions of the film will run on big screens in Times Square, Piccadilly Circus and Independence Square in Kiev, Ukraine, today, as well as running on YouTube.

Celebrities including Jessie J, Jamie Oliver and Elizabeth Hurley will be also tweeting images today.
Now more than ever we know how to beat Aids.

Thanks to incredible work by the Aids community over the past 20 years we now have affordable, quality treatment which saves lives and dramatically reduces the chances of passing on HIV.

But these medicines don't work against prejudice and discrimination.

It's time to stop treating people who are most vulnerable to HIV as outcasts. Everyone deserves the chance to protect themselves. Surely we have enough love for that.
– Sir Elton John, singer