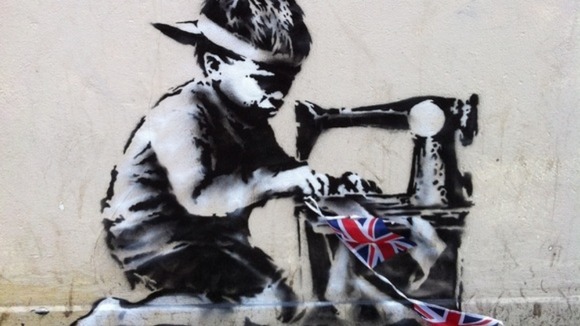 A Banksy mural, which was removed from the side of a Poundland store in North London last week, has appeared for sale at a Miami auction house, with bids starting at $400,000.
The artwork, which appeared last year near Turnpike Lane, depicted a boy kneeling at a sewing machine making Union Jack bunting.
The arrival of the artwork was praised by bloggers and Twitter users at the time but overnight it disappeared. Poundland took to Twitter to say they were investigating the removal of the mural and maintained there were not responsible for its removal:
We would like to confirm that we are NOT responsible for either selling or removing the Banksy mural. We are currently investigating.
The mural is listed as a lot in an auction at the Fine Art Auctions in Miami with a reserve of $400,000 but it is estimated to fetch between $500,000 and $700,000.
Those living close to site, where the mural was created, have been left furious by its removal:
Auction website owner Frederic Thut told The Sun the work was being sold by a "well-known collector" but wouldn't name the person. He said he was offered it along with Banksy's Wet Dog Bethlehem 2007, adding: "The collector signed a contract saying everything was above board. If he has lied to us it is important to know. But I don't think he lies to us."