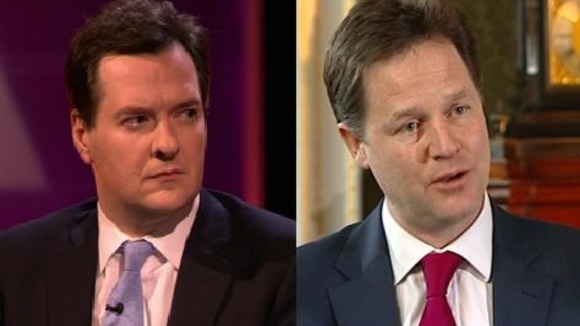 A split has appeared at the heart of the Coalition tonight over a "mansion tax", with the Chancellor describing the Labour proposal as a "con" while the Deputy Prime Minister accuses the Tories of "turning a blind eye to the super wealthy".
Chancellor George Osborne firmly ruled out adopting the proposed tax, which is backed by Labour and the Liberal Democrats, during an appearance on ITV's The Agenda.
But the Deputy PM Nick Clegg told ITV News that stance was wrong and said the current Tory policy was "unfair".
As ITV News' Political Correspondent Libby Wiener reports, the rift comes at a tense time politically, with both the Budget and the Eastleigh by-election looming.
Mr Osborne tonight said Labour's mansion tax proposals were an attempt by the opposition party to create a new tax. He told The Agenda host Tom Bradby:
They say it's a mansion tax before an election and very quickly it becomes a homes tax on many people who are not living in mansions at all.
Mr Osborne added Labour's stance was "just another thing that proves that I don't think they understand aspiration in this country."
Yet, at the same time, his Coalition colleague Mr Clegg was hitting out at the Conservatives for pursuing an "unfair" policy. He told ITV News:
The Conservatives need to speak for themselves. I for the life of me don't understand why the Conservatives think it's ok that an oligarch can buy a palace in Regent's Park for tens of millions of pounds and pay the same council tax as a three-bedroom family house in Lewisham.

That is just unfair. We can't keep turning a blind eye to the super wealthy basically being taxed the same way on their properties as hard working families across the country.
The Deputy Prime Minister, though, refused to confirm whether he and his party will join Labour in voting for a mansion tax, despite accusing the party of "blatant plagiarism" over the policy.
Ed Miliband has called on the Liberal Democrat leader to back the plans he has long championed in public in a Commons vote and oppose the Conservatives.
His party and Cabinet colleague Vince Cable has already suggested the Lib Dems were likely to be joining the opposition in a vote.
But Mr Clegg told ITV News he would not yet stand with Labour on the issue because he has "no idea what we'll be voting on", adding:
Neither Vince nor I know what will be put before us so we can't of course determine in advance how we would vote.

But of course the Liberal Democrats for a long time have been the leading advocate of greater fairness in tax.
Labour meanwhile responded to Mr Osborne's comments on ITV's The Agenda in which he attacked the party's plans for the mansion tax to fund a 10p tax rate.
Shadow Treasury Minister Chris Leslie said:
It's laughable for George Osborne to claim his policies are fair when he's giving a huge tax cut to millionaires while forcing millions on middle and low incomes to pay more.

Labour wants action now to kick-start our flatlining economy and help people struggling with the rising cost of living.

George Osborne should back Labour's plan for a new lower 10p rate of tax paid for by a mansion tax on homes worth over £2 million.

This would be fair, help 25 million working people on middle and low incomes and boost spending power in the economy.