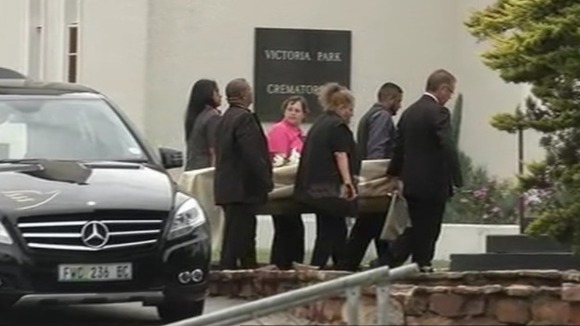 A private funeral ceremony has been held for Reeva Steenkamp, on the same day as the prosecution set out its case against Oscar Pistorius for her murder.
Six pallbearers carried Ms Steenkamp's coffin, draped with a white cloth and covered in white flowers at the memorial service in Port Elizabeth.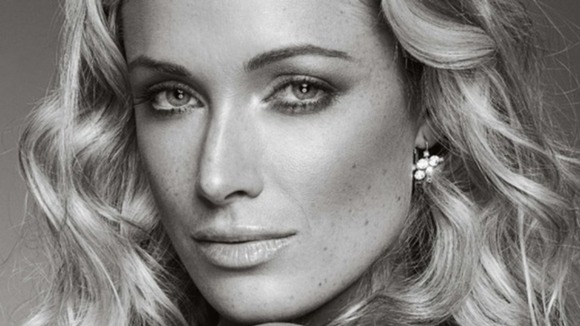 The South African professional rugby player Francois Hougaard attended the funeral of his close friend.
According to local media reports, messages sent by Hougaard to Steenkamp are forming part of the investigation into her death.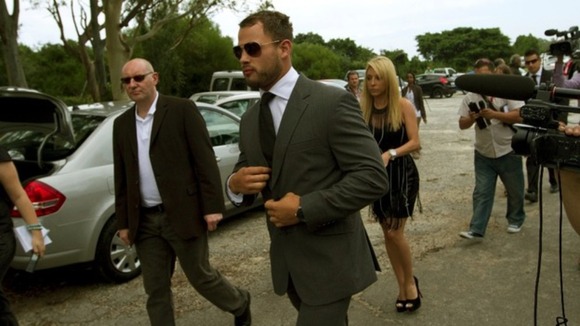 After the service, Reeva's brother, Adam Steenkamp, said:
Everyone is sad, understandably, but at certain points we were smiling whilst remembering Reeva, because we only have good memories of her.

There's a space missing inside all the people that she knew that cannot be filled again.

We're going to keep all the positive things that we remember and know about my sister and we will try and continue with the things that she tried to make better. We'll miss her.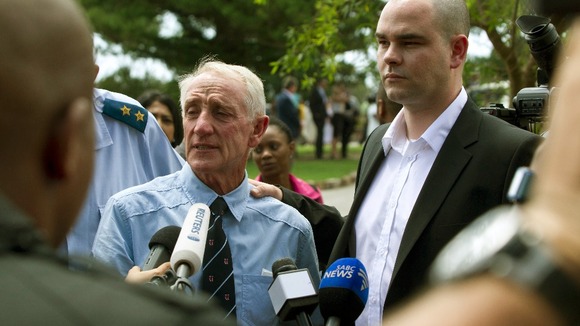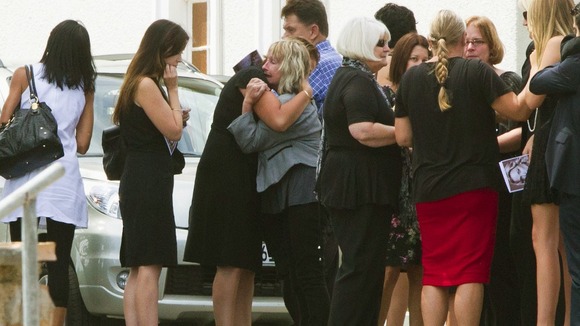 Reeva's uncle, Michael Steenkamp, broke down in tears as he described to reporters what a close-knit family she belonged to.
Oscar Pistorius is accused of shooting the 29-year-old model at his home last Thursday in a premeditated act.
Today, the prosecution alleged that Pistorius shot his girlfriend while she was in his bathroom after an argument between the pair.
Prosecutor Gerrie Nel said that at 3am Pistorius got up from his bed and repeatedly fired his gun through the closed toilet door.
"It was all part of the pre-planning. Why would a burglar lock himself inside the bathroom?", he said.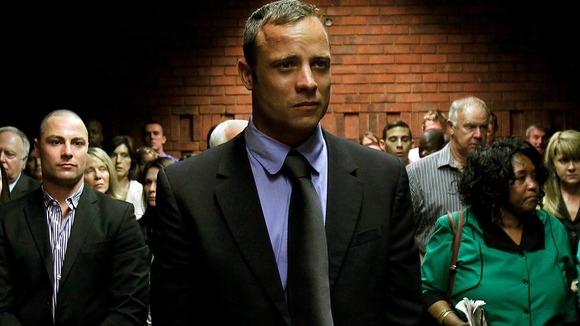 In a court affidavit, read out by his defence lawyer, Pistorius described his version of the events that led to Ms Steenkamp's death.
He denied murder and said the couple were "deeply in love".
The athelete said the couple went to sleep shortly after 10pm on the 13 February, but in the middle of the night he woke up and thought an intruder had climbed in through his bathroom window.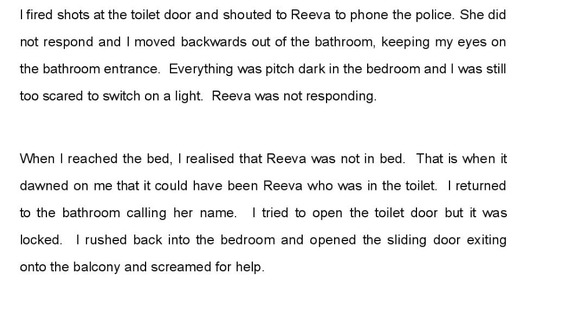 Pistorius said he broke into the bathroon and found Reeva "slumped over but alive" and ran downstairs carrying her, but "she died in my arms".
He went on: "I fail to understand how I could be charged with murder, let alone premeditated murder, as I did not plan to murder my girlfriend, Reeva Steenkamp."
At one point, when his statement was read out, Pistorius began crying uncontrollably and was told to "maintain your composure" in court.
Pistorius will spend a sixth night in custody in a cell at a police station after the bail hearing was adjourned until tomorrow morning.