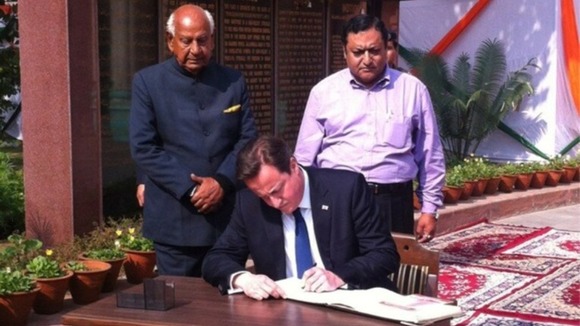 David Cameron has become the first serving Prime Minister to pay his respects to thousands of innocent Indians who were massacred in Amritsar in 1919 by British troops.
Cameron, who laid a wreath and signed a book of condolence on the final day of his visit to India, said it was a "deeply shameful" moment in Britain's history and an incident that should not be forgotten.
He added, however, it was not "right to reach back into history" to "seek out things we should apologise for".
In my view we are dealing with something here that happened a good 40 years before I was born, and we are dealing with something that ... the British government rightly condemned at the time.

I don't think the right thing is to reach back into history and to seek out things that we should apologise for.

I think the right thing to do is to acknowledge what happened, to recall what happened, to show respect and understanding for what happened.
– David Cameron

Cameron viewed the flame which burns continuously at the memorial before writing the following message in in the condolence book:
This was a deeply shameful event in British history, one that Winston Churchill rightly described at the time as 'monstrous'.

We must never forget what happened here, and in remembering we must ensure that the United Kingdom stands up for the right of peaceful protest around the world.
– David Cameron