Daredevil motorcyclists set new world record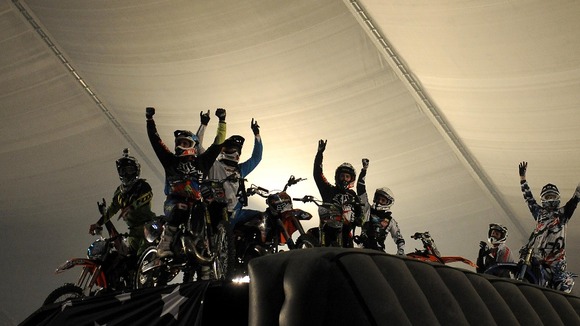 Daredevil motorcyclists Nitro Circus have back-flipped their way into the world record books, after leaping 40ft (12 metres) in the air - the equivalent of three London buses.
A team of 18 dirt bike riders set a new world record for the most motorbikes back-flipping in the air simultaneously during an action-packed stunt show at London's O2 Arena.
Officials from Guinness World Records confirmed 16 of the bikers were airborne simultaneously as they performed the back-flips, jumping a staggering 75ft (23 metres) and setting a new record.
One of the riders, 28-year-old Chris Birch from Cambridge said:
I'm totally stoked and happy for everyone involved. We know it's a dangerous sport but we do it because love it and we have so much fun riding our bikes. As long as that continues I'll continue to do stuff like this.

I got a little buzz tonight. You do get nervous, it's natural. You try not to think negatively because if do you that then chances are something will go wrong.
The record attempt was streamed to cinemas nationwide and followed by a screening of Nitro Circus: The Movie 3D.