Samsung CEO declared year's best brand builder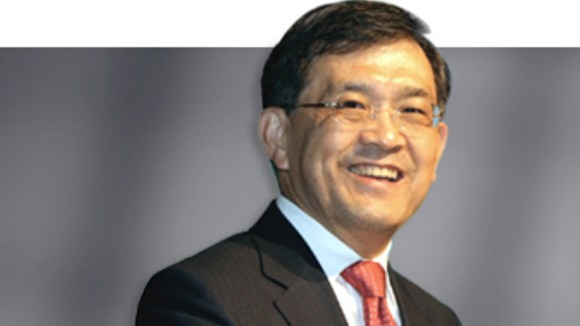 Samsung CEO Dr Kwon Oh-Hyun has been declared the year's most successful global brand-builder.
The South Korean was at the helm as Samsung added over $20bn (£13bn) to the brand's value.
Tim Cook of fierce tech rivals Apple was in second place as the California-based firm jumped $16.7bn (£11bn) in value.
But Apple still tops the table of the most valuable brands overall, according to the BrandFinance Global 500.
Indeed technology firms Apple, Samsung, Google and Microsoft make up four of the list's top five.
Biggest brand value risers in the last year (values in billions)
1. Kwon Oh-Hyun at Samsung: $38.2 to $58.7 ($20.5 increase)
2. Tim Cook at Apple: $70.6 to $87.3 ($16.7 increase)
3. Jeff Bezos at Amazon: $28.6 to $36.7 ($8.1 increase)
4. Peter Vozer at Shell: $22 to $29.7 ($7.7 increase)
5. Jiang Chaoliang at Agricultural Bank of China: $9.9 to $15.9 ($6 increase)
Biggest brand value fallers in the last year (values in billions)
1. Meg Whitman at HP: $21.7 to $16.1 ($5.6 fall)
2. Michael Dell at Dell: $11.6 to $6.2 ($5.4 fall)
3. Stuart Gulliver at HSBC: $27.6 to $22.8 ($4.7 fall)
4. Mark Parker at Nike: $18.6 to $15 ($3.6 fall)
5. Cesar Alierta at Movistar: $14.4 to $11.1 ($3.2 fall)