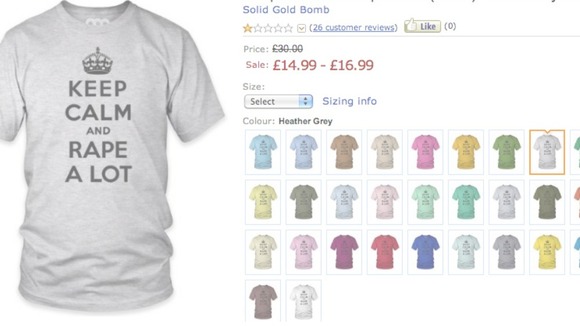 A clothing company has apologised for selling T-shirts with offensive slogans including 'Keep Calm And Rape' - claiming it was an "error".
The T-shirts made by Solid Gold Bomb were advertised for sale on Amazon but have since been removed.
Last night, the t-shirt maker's Twitter account and @AmazonUK was bombarded with hundreds of protest messages:
In a statement on their website, Solid Gold Bomb insisted the slogans had been "automatically generated using a scripted computer process running against hundreds of thousands of dictionary words".
Any offensive items that are remaining are certainly in the deletion queue and will be removed as soon as the processing is complete. Although we did not in any way deliberately create the offensive t-shirts in question and it was the result of a scripted programming process that was compiled by only one member of our staff, we accept the responsibility of the error and our doing our best to correct the issues at hand.

We're sorry for the ill feeling this has caused! We're doing our best here to fix the problem.
After hundreds of #NotBuyingIt tweets and less than 24 hours after they went on sale the T-shirts have since been removed.
"I can confirm that those items are not available for sale", a spokesman for Amazon UK told Sky News.