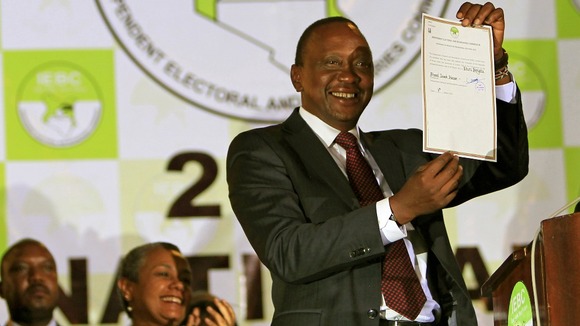 Ministers today pledged to continue working with Kenya after its deputy prime minister, who is wanted for crimes against humanity, was announced president elect.
Uhuru Kenyatta took 50.07% of the ballots, according to the election commission, in the first national election since the 2007 poll that sparked months of violent clashes that lead to the deaths of more than 1,000 Kenyans.
He is wanted by the International Criminal Court (ICC) for his alleged role in directing some of that violence.
Demonstrations erupted after the election results were announced today. Kenya's defeated presidential contender Raila Odinga said that he will challenge the result of the Kenyan elections and warns that violence now could destroy the country.
ITV News Correspondent Nick Thatcher reports:
Africa Minister Mark Simmonds called for "patience and restraint" following the result. Mr Simmonds said that the UK will continue to work with the nation, and that rivals in the election must accept defeat or take their challenge to court.
I congratulate the Kenyan people for the peaceful and determined spirit in which Monday's elections were conducted.

I urge all sides to show patience and restraint, to accept defeat or take any disputes to the courts. I am confident that any disputes will be dealt with by the courts swiftly and fairly.

I appeal to all parties to maintain the same peaceful and democratic spirit that we have witnessed so far.
Mr Kenyatta faces trial in July at the International Criminal Court over allegations he orchestrated the murder, forcible deportation, persecution and rape of Mr Odinga's supporters in the aftermath of the 2007 vote.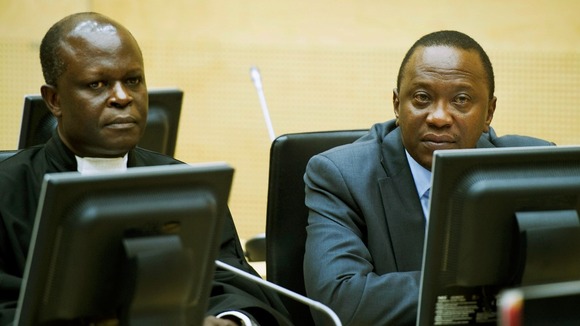 Mr Kenyatta, as president, may have to spend large chunks of his first years in Kenya's highest office in a courtroom in The Hague.
The United States had warned of "consequences" if Kenyatta won, while some European nations also raised concerns.