Coronation Street's iconic Rovers Return goes up in flames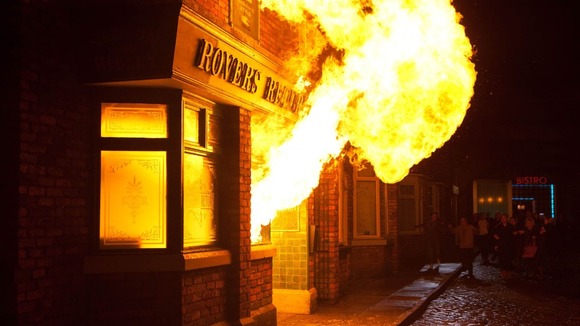 Britain's best-loved boozer, the Rovers Return in ITV's Coronation Street, is set to be engulfed in flames as a dramatic storyline comes to its conclusion.
Long-time Weatherfield character Sunita Alahan (Shobna Gulati) and landlady Stella Price (Michelle Collins) are trapped inside the pub as the fire rages around them in scenes to be screened next week.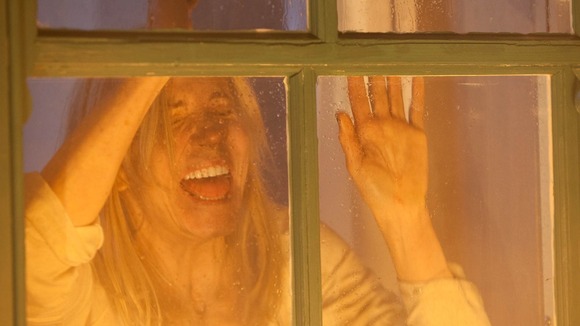 The inferno, which took the soap three weeks to film, is part of Sunita's swansong storyline.
Corrie residents watch on in horror as Stella screams from an upstairs window while Sunita, who later becomes the number one suspect for starting the blaze, is unconscious in the basement.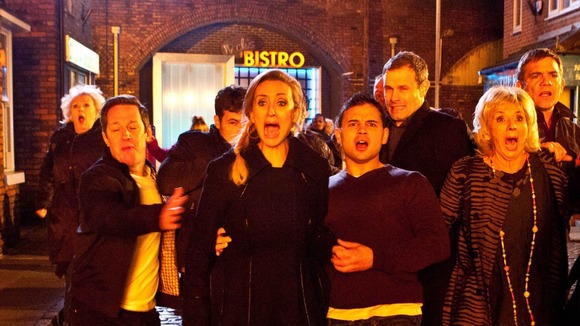 Gulati, who is leaving the show she joined in 2001, said filming the firey scenes left her in tears when the cameras stopped rolling.
When I finished filming the fire I cried. I thought how awful it must be to actually be in that kind of disaster.

It must be horrific because the heat was horrendous. I could feel the burn. You could actually feel your skin burning. I had a bucket of cold water for me to cool down in because I was that hot; hot beyond belief.
– Shobna Gulati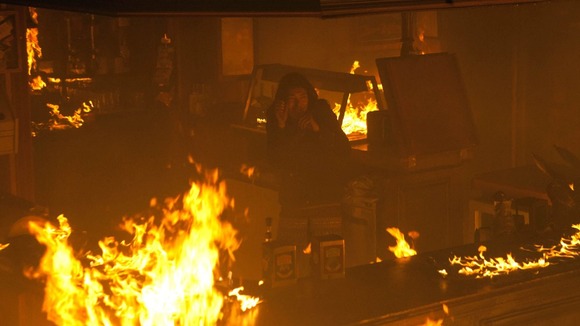 The actress added that although it was difficult seeing the Rovers Return engulfed in flames she was delighted with her send-off.
It's an amazing send-off. It feels great and I feel so pleased. The Rovers itself burning was hard to watch. When you watched the inside burning there was Betty's picture in flames, along with all those memories.

Sunita was a barmaid there too so she had an inside-out relationship with the pub. I had a stunt lady there to do any scenes I didn't want to do but when it came to it I just thought this is the last time viewers are going to see me as Sunita, so you might as well see my face and not the back of the stunt double.
– Shobna Gulati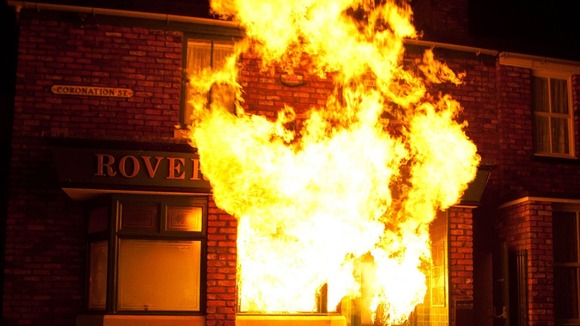 Collins also said filming the flames was a frightening experience.
It was quite frightening. I didn't think it would be as scary as it actually was. To be honest with you I tried not to think about it, which was a good idea. I spent my time talking to the special effects team instead.

I did feel very protected by everyone there. There were lots of firemen there and lots of people safeguarding. Everyone was really supportive and it really felt like a real fire.
– Michelle Collins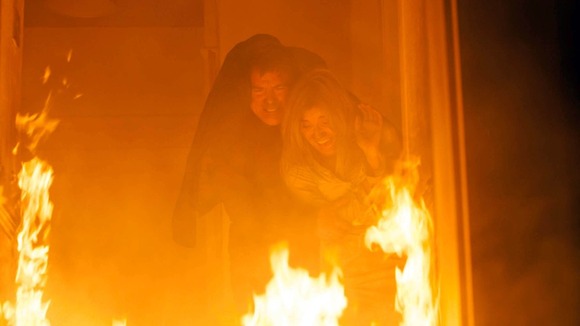 She added that Stella believes she will die in the blaze that will leave viewers witnessing the Rovers as a burnt-out shell.
Obviously she thinks everyone's in the Bistro and that nobody will come to rescue her. At that point I think she genuinely believes she's going to die. She tries to open the window and it's jammed, and she can't get down the stairs either.
– Michelle Collins

Click here for more pictures on the Rovers Return's dramatic blaze from Coronation Street's website.