Billy Joel agrees to impromptu New York State Of Mind gig with student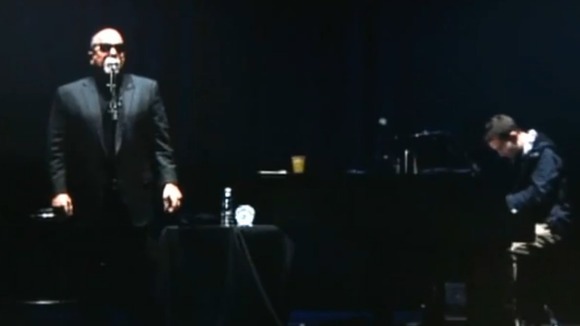 They say never meet your hero - but what happens when you do and decide to ask him for a favour - and he says yes?
Michael Pollack threw caution to the wind when Billy Joel came to Tennessee's Vanderbilt University in January for a question and answer session.
Pollack stood up and told the six-time Grammy Award winner that his favourite Joel song was New York State Of Mind - and could he come on stage and accompany his hero in a rendition.
To the audience's surprise - and Michael's - Joel agreed.
And then from there it was just...foggy.

It's hard to remember. I just started playing.

I had practised it a little bit thinking maybe I'd get the chance to go up...I kind of lost myself playing.
– Michael Pollack to Vanderbilt University student newspaper

Donning a pair of dark sunglasses Billy Joel sang with the grinning Pollack.

Finishing the performance with some high praise for the brazen student as Joel told the audience, "that's Michael Pollack. Remember that name.

"The guy's got chops."

New York State Of Mind was never a huge hit for Joel and was never released as single but has become one of his most famous songs and a concert favourite.