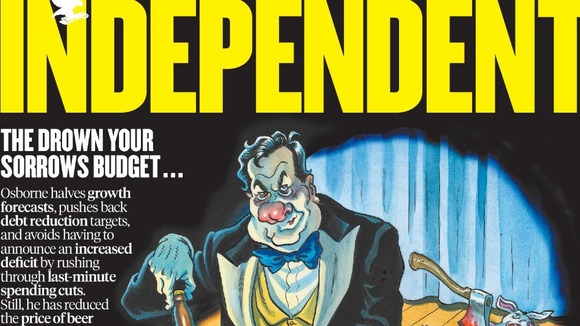 George Osborne masked an even more gloomy forecast for the economy and deeper spending cuts with populist measures to reduce the duty on beer and petrol and offer help for home-buyers in his Budget today.
– The Independent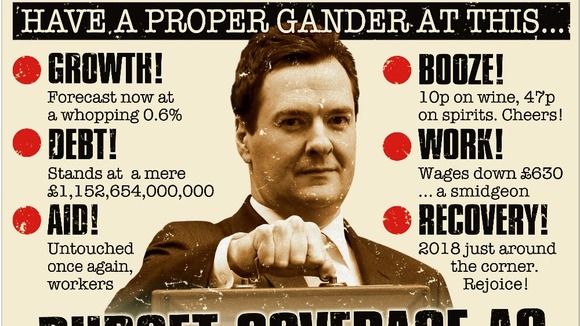 The nation faces a full ten years of bitter austerity since the financial crash of 2008 because of the recovery's failure, he warned. That means £11billion of MORE cuts in a fresh round of belt-tightening in two years' time.

Yesterday's blueprint will leave the average Sun reader — a single person in full-time work on £19,000 a year — around £75 a year better off.
– The Sun
In an overtly political move with an eye fixed firmly on the 2015 general election, Mr Osborne announced that the Government would offer five-year interest-free loans worth up to 20 per cent of the value of new-build homes costing less than £600,000. From January, another scheme will see taxpayers underwrite mortgages to those with small deposits, including more than a million people trapped with so-called "zombie" loans, where the fall in the value of their homes has left them unable to move.
– The Telegraph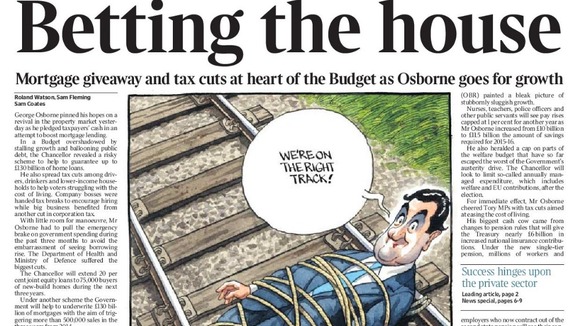 This time Mr Osborne has played a populist touch. The planned 3p rise in fuel duty in September has been shelved and the price of a pint of beer is to be reduced by a penny. Though the latter policy is paid for by rises in duty on wine and spirits, Mr Osborne will be counting that it is a net winner in the popularity stakes. The same cannot be said of the economic projections that he set out.
– The Times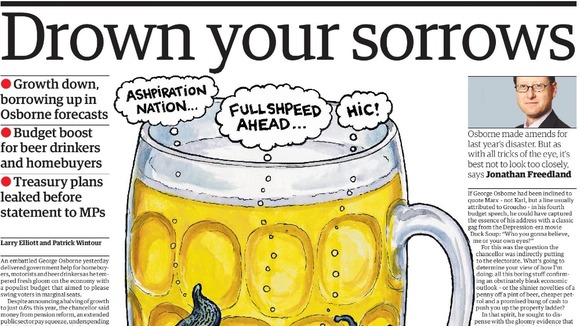 Above all, Osborne's budget relied on closing one's eyes to the wider picture of an anaemic, ailing economy. Cheaper beer is nice, but makes little dent when wages are falling in real terms, by 9% since 2009 on one estimate. Nor does cheaper petrol much help public sector workers now facing a below-inflation pay freeze for a further year.
– The Guardian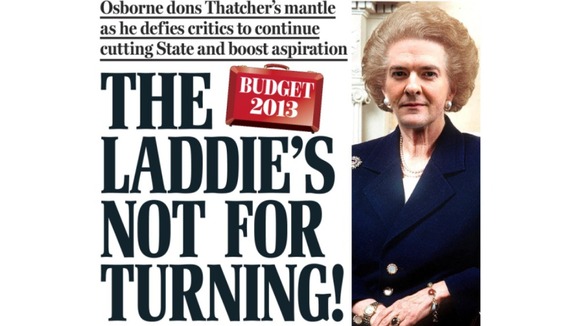 George Osborne today bet the economic recovery on the housing market by using government money to guarantee £130billion worth of mortgages to help more than 500,000 people move home.

The chancellor's astonishing pledge means people with only a five per cent deposit will be able to buy a house worth up to £600,000 - and that families who cannot make mortgage repayments will be underwritten by the taxpayer.

His huge Thatherite package to boost home ownership was part of a Budget designed to boost business and ease the burden on working families with eye-catching giveaways such as taking a penny off a pint of beer, scrapping a tax rise on fuel and slashing Corporation Tax to 20 per cent.
– The Daily Mail