Ant & Dec Ready To Rhumble their way to the top of the charts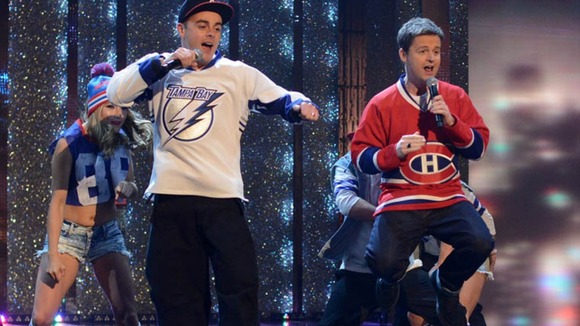 Presenting duo Ant and Dec are preparing to celebrate their first number one single this weekend, as their 1994 single "Let's Get Ready To Rhumble" enjoys an unexpected resurgence.
The song, released 19 years ago when they performed as PJ & Duncan, has been downloaded by thousands of fans following their performance on their prime-time show, Saturday Night Takeaway, last weekend.
Watch: Ant and Dec perform "Let's Get Ready to Rhumble" on Saturday Night Takeaway
The pair dug out their baggy clothes before busting into their trademark 'Rhumble' moves energetically, much to the delight of nostalgic fans.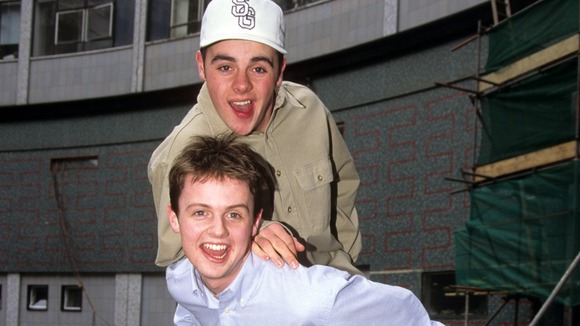 Speaking before the performance, Dec confessed he was nervous about whether he would still be able to perform the dance moves. He said:
We have obviously aged a bit we've either go a lot older and slower or the track has got quicker.
Ant also expressed his initial misgiving, saying he didn't think anyone would be interested:
It was weird when they first suggested the idea and we were like 'Oh God, no really? Does anyone want to see this?', but it's come back.
But fans obviously disagreed and the performance prompted thousands to download the single sending it to the top of the iTunes chart, much to their surprise.
I know the charts have slowed down a bit but taking 19 yrs to get to No.3 is just plain ridix. D #LetsGetReadyToRhumble
The track has sold 35,000 copies so far this week, and the Official Charts Company confirmed it is a favourite for the number one spot this Sunday, whilst bookies Ladbrooks are offering 8/11 odds.
Ant and Dec announced today that the royalties from the new single will go to Childline.
I didn't think this week could get any more nuts….then someone sent me the midweek chart! You're all mad. D x #LetsGetReadyToRhumble
See how they prepared for Saturday's performance: