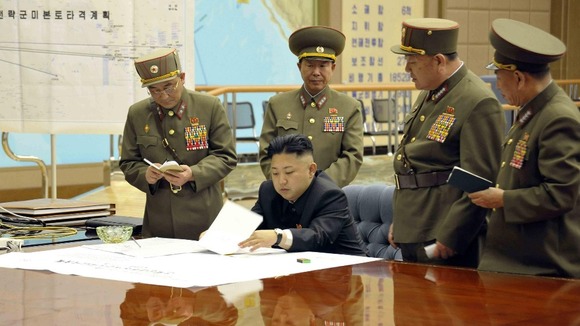 The North Korean army has announced that it has been given the approval to launch a nuclear strike on US threats.
The General Staff of the Korean People's Army said it was informing Washington that they could launch "merciless" military strikes involving the possible use of "cutting edge" nuclear weapons.
(US threats would be) smashed by...cutting-edge smaller, lighter and diversified nuclear strike means.

The merciless operation of (our) revolutionary armed forces in this regard has been finally examined and ratified.
– The General Staff of the Korean People's Army

ITV News Washington Correspondent Robert Moore reports:

The North Korean statement came as US Defence Secretary Chuck Hagel warned of the "real and clear" danger the country posed to the US and its allies.

Hagel said he took the threats "seriously" and added that North Korea now had nuclear and missile delivery capacity.

The Pentagon confirmed that the military will deploy a THAAD ballistic missile defence system on Guam to protest US bases on the Pacific Island. They said the move was "precautionary".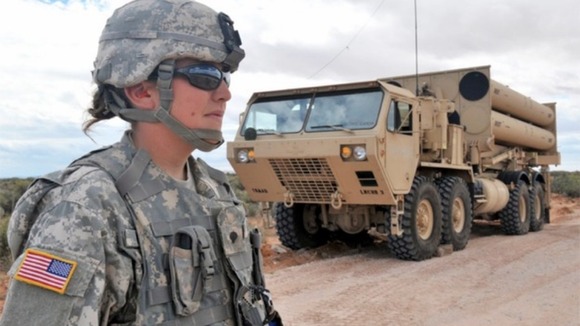 THAAD is a system that shoots down short and medium range missiles and is considered one of the last lines of defence against an incoming threat.
ITV News Washington Correspondent Robert Moore said North Korea's talk is seen as rhetoric and posturing in the US.
Meanwhile, the Prime Minister has warned that it would be "foolish" for Britain to consider abandoning its Trident deterrent because the UK faces an increased threat of a nuclear attack from regimes including North Korea.
In an article for The Daily Telegraph, he has written:
We need our nuclear deterrent as much today as we did when a previous British Government embarked on it over six decades ago.

Of course, the world has changed dramatically.

The Soviet Union no longer exists. But the nuclear threat has not gone away.

In terms of uncertainty and potential risk it has, if anything, increased.

Last year North Korea unveiled a long-range ballistic missile which it claims can reach the whole of the United States.

If this became a reality it would also affect the whole of Europe, including the UK.

Can you be certain how that regime, or indeed any other nuclear armed regime, will develop?

Does anyone seriously argue that it would be wise for Britain, faced with this evolving threat today, to surrender our deterrent?
– DAVID CAMERON ARTICLE IN THE DAILY TELEGRAPH

Mr Cameron added that in his judgment, it would be "foolish to leave Britain defenceless against a continuing, and growing, nuclear threat."