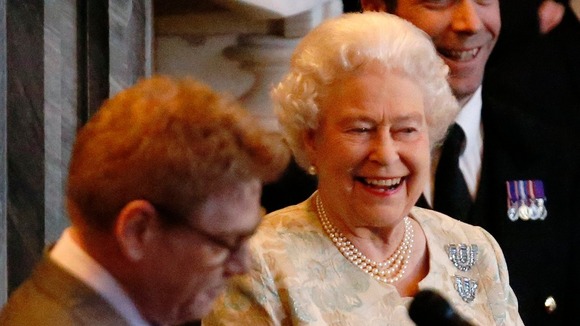 The Queen received an honorary Bafta tonight in recognition of a lifetime's support of British film and television, and was praised for her starring role in last year's Olympics.
John Willis, chairman of Bafta, paid tribute to the Queen's "outstanding" patronage of the organisation, whilst Sir Kenneth Branagh joked that her "sensational" performance will prompt other directors to solicit her skills.
ITV News Correspondent Nina Nannar reports:
In a short speech, Mr Willis drew laughter from the crowd and from The Queen when he said:
Her Majesty the Queen starred at the London Olympics as the most memorable Bond girl yet.
Her Majesty appeared delighted and quite shocked to be awarded the accolade:
Hollywood star Sir Kenneth Branagh presented the award during a glittering Windsor Castle reception attended by stars of stage, screen and television celebrating their industry. To the laughter of the audience he told the Queen:
Your sensational appearance at the opening ceremony of last year's Olympics was especially memorable.

So much so that several of my colleagues here tonight want you to know that should you wish to take it further into the world of British films that they have a number of scripts with them here this evening. I have to warn you,