A rock musician who says he faces regular abuse for his "theatrical" look has backed a police move to treat attacks on goths as 'hate crimes'.
Kier Kemp, singer and guitarist in Fearless Vampire Killers, told ITV News that crimes against groups such as punks and emos were comparable to racial or homophobic assaults.
We get all sorts of abuse on a regular basis. I've played gigs everywhere from Aberdeen to east London, and there are still old-fashioned people that can't take the fact we wear make-up. Even though the '80s happened.
– Kier Kemp

Greater Manchester Police said it would treat attacks on "alternative subcultures" as hate crimes, in response to the killing of goth Sophie Lancaster in Lancashire in 2007. Kemp said the force was "setting an example":
More can be done to tackle these kind of attacks and Greater Manchester Police are proving it. It's all about attitude.

They should be treated the same as attacks based on race or sexuality. At the end of the day, someone's still been beaten up. Or in Sophie's case, someone has been killed.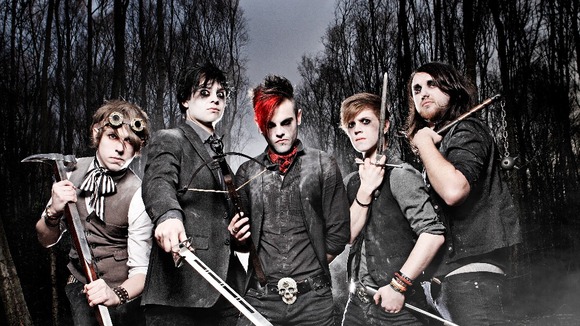 Kemp says his five-piece band are regularly targeted by members of the public for the way they dress, which he describes as "dark and theatrical".
I've had abuse hurled at me in the street, I get accused of being homosexual. It's mainly verbal abuse but sometimes it's physical. People have barged into us or tried to start fights with us. The verbal abuse makes me more angry in a way.

We're five quite big lads so we're usually able to fend them off. But in the case of Sophie and others, they are often targeted on their own.
Kemp, whose band were nominated for Best British Newcomer at the 2012 Kerrang! Awards, says there is also discrimination within rock music:
When we were announced at Download Festival last year, a predominantly heavy metal festival, people went mad because we wear make-up and are overtly theatrical. They didn't like it, they couldn't handle it.

Rock music audiences are very macho, but then all the same people love Iron Maiden who ponce around in spandex. There's no sense behind that kind of discrimination.