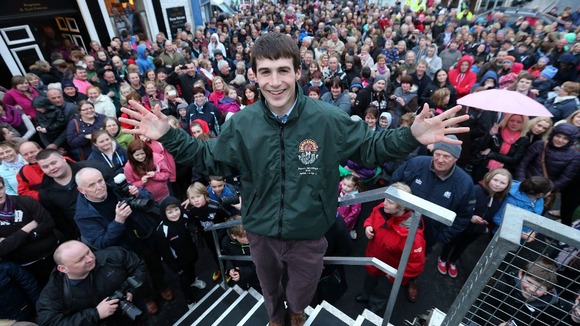 Jump jockey Ryan Mania has had an extraordinary few days that have included winning the Grand National on rank outsider and being airlifted to hospital after falling off another horse the very next day.
Mania left hospital today and got the party started at last in his home town, Galashiels, in the Scottish borders.
The celebrations had been hold since he took a terrible tumble the day after his great victory riding Auroras Encore at Aintree.
He told ITV News sports correspondent Natalie Pirks that attention he had received after winning the race was "just crazy":
Earlier, after being discharged from hospital Mania said he was, "feeling a bit tired and a bit sore, but other than that I'm doing OK. Nothing serious."
He also described what he could remember from his fall in the Hexham on Sunday:
It means everything, I mean all these people are here to see me and it's a bit overwhelming really, I can't thank them enough.

The National is the biggest race in the world and it's mad really that I won, but to see all the people here is heartwarming.
– Grand national winner Ryan Mania

Hundreds of people lined the streets to congratulate him as he toured the town centre on the back of a 4x4 truck before speaking on a stage in front of the Auld Mill pub.

Mania said the last few days had been "crazy" and that he was overwhelmed by the turnout in his home town.