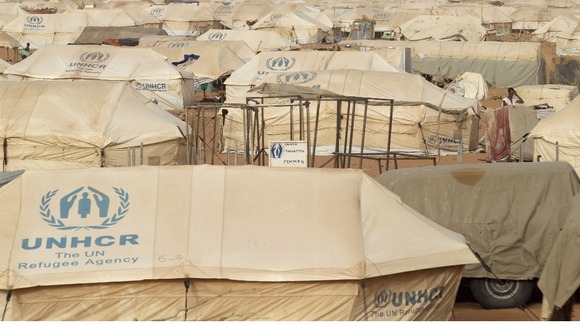 The Mbera refugee camp in Mauritania is now home to 70,000 people who have fled their homes in Mali over the past 15 months.
The French led military intervention in January has prompted more than 15,000 people to arrive at the camp within a very short space of time, and conditions have been described by medical aid agency Medicines Sans Frontiers (MSF) as 'deplorable'
Read: French launch airstrikes in Northern Mali
The camp is located in a remote, arid region near the Malian border and lacks the most basic facilities. In January there were only four latrines for 12,200 people and refugees are receiving only 11 litres of water per day, whilst enduring 50 degree heat.
MSF Emergency Coordinator Henry Gray told ITV News conditions are extremely difficult, and MSF is worried about the big jump in the number of children they have treated for malnutrition within a short space of time.
Read: Malnutrition rising for Malian refugees in Mauritania
Conditions at the camp are so bad that many healthy children are getting ill upon arrival and malnutrition rates have more than doubled. MSF said:
The number of children admitted per week for severe malnutrition has more than doubled, [...] despite the nutritional status of the new refugees being generally good when assessed on arrival in the camp
Gray said although there have been some improvements since January, more is needed to ensure the camp meets the minimum standard of acceptable levels.
The conditions are extremely difficult, there hasn't been enough water, shelter and even food in some places for people.

We want current standards to improve to at least the minimum level recognised by humanitarian affairs, and we want people to be prepared for the situation to continue as people say they cannot go home as they do not feel safe.
MSF interviewed more than 100 residents of the camp, many of whom are Tuareg or Arab, who said they are afraid they will never be able to return to their homes. Speaking to Channel 4 News, Grey said many of the refugees are fearful of being targeted if they return.
More: Stranded in the Desert, MSF report based on the testimony of more than 100 residents of the Mbera camp, near the border with Mali.