Video report by Nina Nannar
Sir Winston Churchill will appear on the next £5 note, the Governor of the Bank of England has announced.
The wartime leader will become the first politician of the modern era to feature on a banknote, when it is issued in 2016.
Sir Mervyn King made the announcement at Chartwell, Churchill's former home in Kent, at an event attended by members of his family.
The design will feature a renowned portrait of the prime minister, taken by photographer Yousuf Karsh in December 1941. Behind him will be a view of the Houses of Parliament, with the hands on Big Ben showing three o'clock.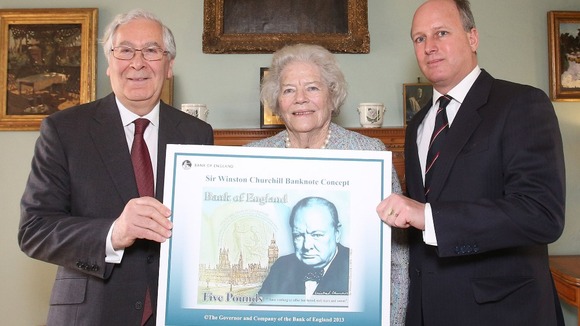 Three o'clock marks the approximate time Churchill made aa statement to the House of Commons on 13th May 1940 when he famously told MPs: "I have nothing to offer but blood, toil, tears and sweat." The quote itself is also shown on the design.
Our banknotes acknowledge the life and work of great Britons. Sir Winston Churchill was a truly great British leader, orator and writer. Above that, he remains a hero of the entire free world.

His energy, courage, eloquence, wit and public service are an inspiration to us all. I am proud to announce that he will appear on our next banknote.
– Sir Mervyn King, Governor of the Bank of England

Churchill's image will replace Elizabeth Fry, the philanthropist and penal reformer, who appears on current notes first issued in 2002. Leaving no notes featuring the face of a famous woman - other than the Queen.

Speaking in the grounds of Chartwell, Sir Winston's grandson, Mid Sussex Tory MP Nicholas Soames, said featuring on a bank note would have given the former wartime prime minister great pleasure.
He was an extraordinary man and his ability to capture the mood and the people's mood was one of his great gifts as a statesman.The design of the bank note, the quotation and the whole idea behind it is so appropriate and fitting, and my grandfather would have been truly very proud.
– Nicholas Soames, MP

On whether the note will become popularly known as "a Winston", Mr Soames said: "Of course it will."