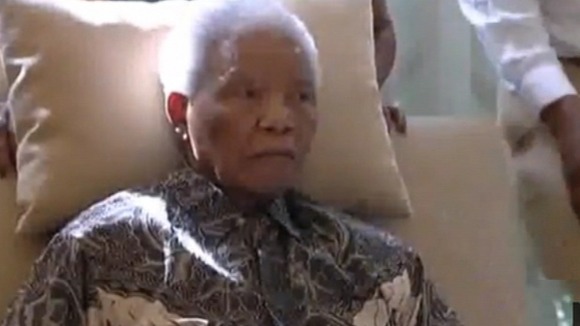 South African President Jacob Zuma said he found Nelson Mandela "in good shape and in good spirits" when he visited the ant-apartheid icon at his Johannesburg home.
Footage broadcast today on South Africa's state broadcaster SABC TV shows Mandela for the first time since he was discharged from hospital more than three weeks ago.
Zuma said, "We had some conversation with him, shook hands, he smiled, as you can see him, that he's really up and about and stabilised. We're really very happy. We think that he's fine".
Mandela is shown in an armchair, covered with a blanket and his head is propped up by a pillow.
ITV News Africa Correspondent Rohit Kachroo said that to suggest Mandela looked robust in the footage would be "an overstatement" but that "'healthy ... considering' would be a better assessment":
Zuma is seen joking and laughing with officials of the governing African National Congress, some members of the Mandela family and his medical team.
SABC TV said Mandela was "relaxed and well" during the visit and its reporters tweeted their excitement afterwards:
The South African TV station released this report: