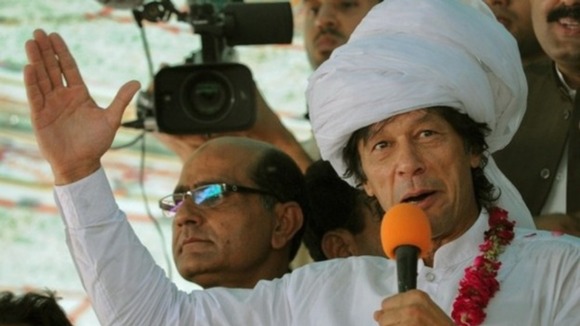 Pakistani cricketer-turned-politician Imran Khan injured his head after falling off a mechanical lift raising him onto a stage at an election rally today.
Khan fell as the lift was just short of the 15ft-high platform in the eastern city of Lahore, witnesses said.
Television footage showed the dazed leader of the Pakistan Tehreek-e-Insaf (PTI) party being led away to hospital with blood on his head.
Party spokesman Shafqat Mahmood said: "He is not in any danger. He is having tests but his injuries seem minor.
Dr Faisal Sultan from the Shaukat Khanum Cancer Hospital added:
Imran has a head injury but he is stable, talking and recognising people. We will conduct some tests and further examination.
The politician's ex-wife Jemima Khan also tweeted that the former cricketer was recovering in hospital:
He's in hospital & conscious now RT @bbcbreaking: Pak politician Imran Khan injured in fall from stage at election rally
Khan's PTI is not expected to win the 11 May poll, but could be a major partner in a coalition government.
He has promised to cut down on tax evasion and corruption that have bled Pakistan's treasury dry.
Khan was part of a Pakistani team that won the cricket World Cup in 1992.