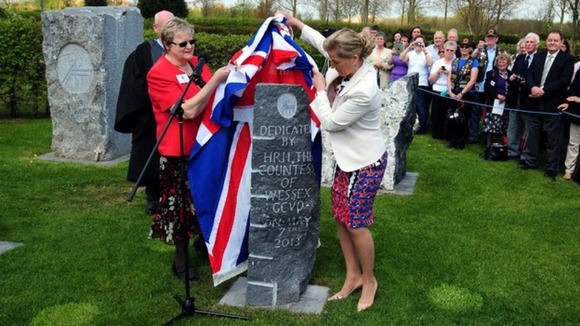 The Countess of Wessex has unveiled a memorial to 48,000 men, known as the Bevin Boys, who worked in British coal mines during the Second World War.
The memorial at the National Arboretum, Staffordshire, was designed by Harry Parkes, a former Bevin Boy, and features four blocks of Kilkenny limestone.
The Countess tearfully embraced 87-year-old Parkes, who along with his peers had waited more than 60 years for what they say is long overdue recognition.
In return he gave her a small brass miner's gas lantern on a keychain, which she told him she would wear as a necklace.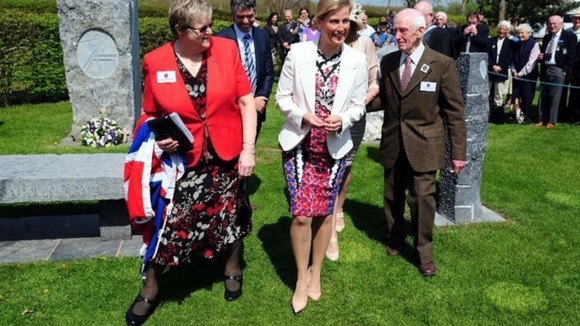 During the Second World War, conscripts who had signed up believing they would fight the Nazis were instead drafted to work in more than 1,800 coal pits nationwide, selected by an independent lottery.
At the time, none knew why they had been selected for the pits rather than the front line, said Parkes:
If you were left-handed you couldn't fire a .303 rifle, so they'd say 'send him down the pits'.

The same if you were flat-footed and so it went on - we thought we were almost third-class citizens.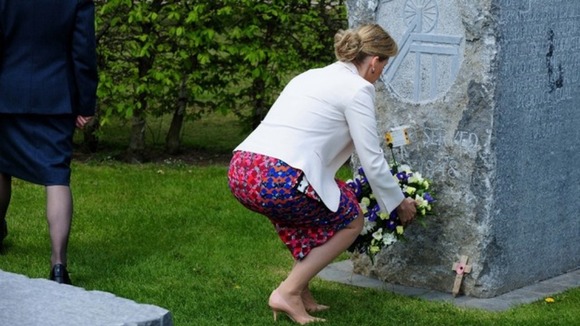 In wartime, Prime Minister Winston Churchill had said the miners would be able to stand as equals with the fighter pilots, the merchant seamen and the soldiers, for recognition of their efforts.
However, they were sometimes viewed as forgotten contributors to the war effort.
It is thought around 5,000 miners lost their lives during the war.