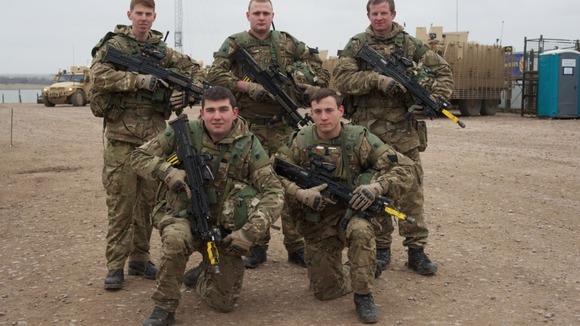 In a major shake up of the armed forces, regular army troops are being cut by 20,000 and will be replaced by doubling the number of part-time soldiers to 30,000. These Territorial Army reservists, who also hold down civilian day jobs from banking to plumbing and retailing to marketing, look set to play a much more integral role in the future army, being more routinely deployed and with greater responsibilities.
Tonight's New Model Army programme will talk to those right at the front-line of the debate now raging: is this as a cost-effective solution in a time of austerity (in peacetime a TA soldier costs 5 times less that their full-time counterparts), which will also harness new talent and skills for a modern army? Or are the plans dangerously optimistic, which may make the army less professional and capable to respond to future world events?
General the Lord Richard Dannatt, former head of the Army, tells Tonight that recruiting and training so many part time soldiers has proved tricky in the past and says it is a risk to make regular soldiers redundant before it is certain that they can be replaced.
It's very ambitious and therefore its risky, will it work? Let's wait and see."
– General the Lord Richard Dannatt

Tonight talks to recent army veterans and a former commander of British Forces in Afghanistan, who argue that even if the numbers are met, part-time soldiers will never be as effective, cohesive and ready for action as squaddies who train day-in, day-out.
I've known a plastic surgeon that I've worked with in Iraq that was a fantastic guy, I've known a chef, I've known a Police Officer. But people have this idea, oh yeah that's great skills to have, but in the heat of battle, when the rounds are going above your head and the explosives are going off… you need to know what your personal drills are like, what the bloke next to you personal drills are going to be. It's not about what you used to do or how intelligent you are you've got to be trained."
– Sergeant Major Dave Goodman, veteran of Iraq and Afghanistan

A case from 2003 illustrates why such training is so important. Sergeant John Nightingale was accidentally shot by his friend Lance Corporal Blaymire while in British Base in Basra, Iraq. Blaymire was acquitted of manslaughter because it was discovered that he had not been trained to the required weapons handling standard. Incredibly, he was not the only one; evidence uncovered in the trial revealed that up to 2,300 territorial soldiers had been sent to Iraq with question marks over their skills.

The MOD says that they have learned from these mistakes and now pre-deployment training is much more stringent.

But there are also questions about how soldiers are looked after once they come back from the front-line. Given that reservists are twice as likely to develop mental health problems such as post traumatic stress disorder (PTSD), compared to their regular counterparts, plans to increase the prominence of TA soldiers on the front line makes this all the more pertinent.

Tonight spent a day with a very brave solder, Jake Wood, who served in Iraq and Afghanistan. He gives us an insight into his postings to some of the toughest and most hostile battlefields, illustrated with dramatic headcam footage he took himself. He also shares his experiences battling with PTSD when he returned. He is slowly recovering and has written a book about his experiences, Among You. But he wanted to share his story with Tonight too so that the public can understand more about the condition.
"All of a sudden I'd find myself sitting at a desk surrounded by people who through no fault of their own hadn't the faintest idea what I'd been doing or seeing or were experiencing for the last months and that was incredibly isolating, yeah."
– Jake Wood, ex TA soldier and author of Among You

The MOD says they are investing mental health support for troops and Jake is grateful for the help he's received from the army.

But generally, cuts in our armed forces and an increased reliance on part time reservists was always bound to be controversial. How much it impacts on our capabilities remains to be seen.

Tonight: New Model Army is on ITV at 7.30pm

Useful Links:

Combat Stress - the UK's leading charity that specialises in the treatment and support of British Armed Forces Veterans who have mental health problems.

The Territorial Army - or TA as it is usually known, is part of Britain's reserve land forces. Together with the Regular Reserve the TA provides support to the Regular Army at home and overseas.

Jake Wood on Twitter - ex TA soldier and author of _Among You _