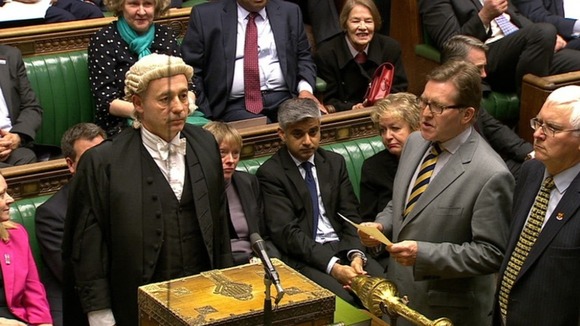 Half of all Conservative backbenchers have voted in favour of a motion to amend the Queen's Speech to express regret that an EU referendum will not be legislated before the next election.
The eurosceptic motion was easily voted down, by a majority of 147, but the number of MPs who voted in favour was higher than expected at 130.
Conservative MPs were free to vote whichever way they chose, although ministers were asked to abstain. A total of 114 Conservative MPs including 13 ministerial aides voted in favour.
Labour and the Liberal Democrats voted overwhelmingly against today's motion.
ITV News' Political Editor Tom Bradby reports:
Today's vote will not result in new legislation being brought forward for a referendum on Britain's membership of the EU, but some Tory backbenchers believe it gives the Prime Minister a mandate to push this agenda with their Lib Dem Coalition partners.
Tory MP John Baron, who tabled today's motion, told ITV News he commends the Prime Minister for "listening" to his party but that he would not rest until he had a Bill on the referendum.
Watch: 'PM's draft EU bill shows he is listening to party'
David Cameron, who returns from the US tomorrow, said before the vote that he was "profoundly relaxed" about it.
Foreign Secretary William Hague downplayed the result, insisting it had been a "free vote" and that the number of MPs who voted against the party was not a cause for embarrassment.
Whilst Conservatives argued that the vote could not be seen as a reflection on David Cameron's leadership, Labour portrayed it as a "further devastating blow to the Prime Minister's authority".
It demonstrates that David Cameron has managed to turn a Europe issue into a leadership issue.

This is a Prime Minister who has lost control of the agenda and tonight lost control of his party.

David Cameron's backbenchers have shown they simply won't give up until he gives in.
– douglas alexander, shadow foreign secretary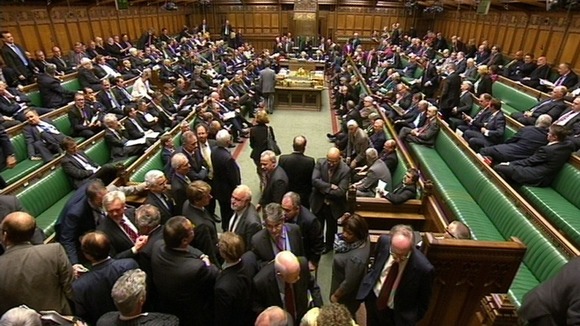 Although the Prime Minister is powerless to alter a Queen's Speech agreed with the Liberal Democrats, he sought to appease backbenchers by publishing a draft Bill in recent days.
The move, however, failed to stem the activities of his party's eurosceptics who pushed ahead with the amendment.
Mr Cameron promised an in/out referendum by the end of 2017 earlier this year but eurosceptics want the commitment written into law.
The Tory's draft Bill would enable that to happen but would have to be taken up by a backbencher to be considered in Parliament. Opposition from Labour and the Lib Dems, however, would prevent it making progress.